UNITED NATIONS, NEW YORK – The United Nations Population Fund's Goodwill Ambassador for the Elimination of Female Genital Mutilation, Waris Dirie, has been honoured by a United States charity, Childhelp USA, for her efforts to curb the practice. Childhelp, which is dedicated to the prevention and treatment of child abuse, granted her its Guardian Angel Award on 12 April at a ceremony in Scottsdale, Arizona.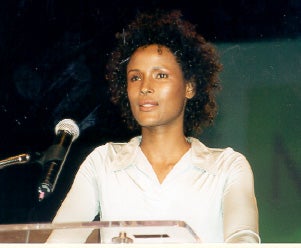 The Goodwill Ambassador was recognized for her incredible bravery and strength, according to a Childhelp statement read by an Arizona television news anchorwoman, Robin Sewell. "It's hard to imagine the physical pain that Waris Dirie endured as a child and the emotional pain she has had to cope with as an adult. … Waris has truly turned her 'pain' into a 'platform'. Her efforts are bringing hope to the victims of FGM."
Somali-born Ms. Dirie works with the UNFPA to help eliminate FGM, which is performed on about two million women and girls annually. She speaks to policy makers, donors and the public worldwide about FGM and the need to support programmes to prevent and end it. Her book, Desert Flower, which narrates her experience with the practice, has been a best-seller in Europe and she has been featured on the cover of popular magazines such as Reader's Digest and Marie Claire
-- -- --
The UNFPA is the world's largest multilateral source of population assistance. Since it became operational in 1969, it has provided more than $5 billion in assistance to developing countries. The United Nations General Assembly has welcomed the positive contributions the Fund has made since then in improving the quality of human life.
Contact Information:
William A. Ryan
Tel.: +66 2 288 2446
Email: ryanw@unfpa.org