Kenya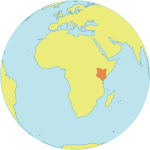 Maternal Mortality Ratio
510
Contraceptives prevalence rate
65
Population aged 10-24
33%
Youth secondary school enrollment
Related content
The Nepal earthquake has affected 8 million people, including 126,000 pregnant women. UNFPA is responding in the 14 most-affected districts.
Increased mortar and rocket shelling was reported on Damascus, Homs and Lattakia cities.
Thousands of people have been killed and millions displaced in the Lake Chad Basin region, the result of a relentless and ongoing campaign of violence by Boko Haram insurgents.
Pages