Sri Lanka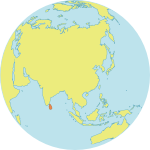 Maternal Mortality Ratio
36
Contraceptives prevalence rate
45
Population aged 10-24
22.8%
Youth secondary school enrollment
Related content
Gender-based violence at the gathering sites continues to be an issue with alleged gang rape, physical assault, harassment, looting as well as humiliation.
UNFPA surveys show that teenagers in the country want to learn more about contraception.
To date, 70,590 people, including 17,648 women of reproductive age, have been displaced from North-East Syria to Al-Hassakeh, Ar-Raqqa and Aleppo governorates.
Pages