Lebanon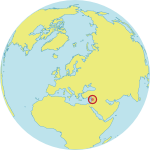 Maternal Mortality Ratio
29
Contraceptives prevalence rate
29
Population aged 10-24
25.3%
Related content
Thank you for the kind introduction and for inviting me to present my views on Demography, Politics and Stability in the Middle East. It is a pleasure to be here at the Washington Institute for Near East Policy, which is dedicated to scholarly research and informed debate on...
Winning the war in Afghanistan is not the same as keeping the peace. Here I would like to correct a common misconception, mostly produced by the media. Achieving peace and building communities and nations are considered in Islamic theology as the highest form of Jihad (Al-...
Let me get right to the point. Ten years after the adoption of Agenda 21, the primary challenge remains: to ensure that access to resources for human development is in balance with human numbers; to end extreme poverty; and to advance equality between men and women.
...
Pages