Lebanon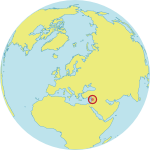 Maternal Mortality Ratio
29
Contraceptives prevalence rate
29
Population aged 10-24
25.3%
Related content
As the conflict enters its fifth year, Yemen remains the world's worst humanitarian crisis with staggering levels of humanitarian needs. Eighty per cent of the population – 24.1 million people – need some form of humanitarian assistance.
Ongoing tensions in the country's northern region continue to drive mass displacements. In January, humanitarian conditions in the region worsened considerably, with nearly than 586,000 people displaced in Idlib following a second wave of displacements that began in late 2019.
Amani was delighted to be pregnant. Then she experienced a life-threatening complication.
Pages