Iraq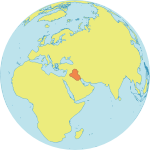 Maternal Mortality Ratio
79
Contraceptives prevalence rate
37
Population aged 10-24
31.1%
Related content
"Yes for Prevention. No for discrimination" was the slogan of this year's AIDS Day commemoration by UNFPA in Sudan.
UNFPA recently provided the Government of Sudan with six new four-wheel drive vehicles equipped as ambulances.
Despite all efforts to find a peaceful solution, we are now faced with the sad reality of war in Iraq and increased suffering for the Iraqi people.
I appeal to all parties to observe international law to protect the people of Iraq and neighbouring countries from the...
Pages