Iraq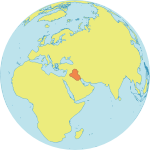 Maternal Mortality Ratio
79
Contraceptives prevalence rate
37
Population aged 10-24
31.1%
Related content
The humanitarian crisis in Yemen remains the worst in the world; driven by five years of conflict and political instability. Humanitarian conditions continue to deteriorate, including internal displacement, famine, outbreaks of cholera and COVID-19. An estimated 24.1 million...
Sexual and gender-based violence affects one in three women and girls globally. In some humanitarian settings, this figure is estimated to be two in three.
At the 75th session of the United Nations General Assembly, leaders from governments and international organizations called for specific actions to address the financial and socioeconomic consequences of COVID-19. UNFPA's Executive Director Dr.
Pages