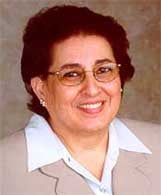 Thoraya Obaid
UNITED NATIONS, New York – Dr. Nafis Sadik, Executive Director of the United Nations Population Fund (UNFPA), today welcomed the announcement by United Nations Secretary-General Kofi Annan that he has appointed Ms. Thoraya Obaid of Saudi Arabia to head the Fund effective 1 January 2001. She is the first Saudi national to be appointed head of a United Nations agency. Dr. Sadik is retiring after 14 years as Executive Director.
Ms. Obaid is currently the Director of the Division for Arab States and Europe at UNFPA, a position she has held since December 1998. Prior to joining the Fund, she was Deputy Executive Secretary for the Economic and Social Commission for Western Asia (ESCWA) from 1993 to 1998. She was the Chief of the Social Development and Population Division from 1992 to 1993 and Senior Social Affairs Officer, with various responsibilities, from 1975 to 1992.
Helping governments establish programmes to empower women has been a central focus of Ms. Obaid's work, both at ESCWA and UNFPA. At ESCWA, she was responsible for providing technical assistance aimed at countering gender inequality, as an integral part of social development programmes.
In 1975 she established the first women's development programme in the Western Asia region. It provided technical assistance to governments to establish national organizational units for women. The programme was instrumental in building partnership between the United Nations and regional non-governmental organizations.
Ms. Obaid chaired the United Nations Inter-Agency Task Force on Gender in Amman, Jordan, in 1996. In November 1997, she was part of an inter-agency mission to Afghanistan.
Ms. Obaid was the first Saudi Arabian woman to receive a government scholarship to study at a university in the United States. She has a Ph.D. in English literature from Wayne State University, Detroit, Michigan. She is an active member of the Middle East Studies Association and of Al Nadha, a Saudi Women's Association.
"I am very pleased at the selection of Thoraya Obaid as Executive Director," said Dr. Sadik. "I believe she has the necessary experience and skills to lead the Fund in the new millennium. We have made great strides in population issues over the past 30 years. Individuals are now at the centre of population policy, and women's empowerment is seen as critical for development. Issues of reproductive and sexual health are now discussed by governments and non-governmental organizations as never before, yet we have much still to achieve.
"A woman dies every minute due to pregnancy-related causes and some 350 million couples do not have access to a range of safe and effective contraceptive methods," continued Dr. Sadik. "As Director of UNFPA's Division for Arab States and Europe, Ms. Obaid has shown her commitment to these issues and I believe she will be courageous in moving the agenda forward. And of course, I am delighted that my successor will be a woman. I wish Ms. Obaid every success for the future in her new role."
"I hope all the achievements of the Member States since the International Conference on Population and Development in Cairo in 1994 will continue to expand and will continue to improve the quality of life of women and men around the world," said Ms. Obaid.
"I am confident that UNFPA, as part of the UN family, will continue to be an active member in the Secretary-General's reform and help in moving forward our common UN programme," she said.
UNFPA is the world's largest international source of population assistance. About a quarter of all population assistance from donor nations to developing countries is channelled through UNFPA. Since it began operations in 1969, the Fund has provided over $5 billion in assistance to virtually all developing countries. The Fund's main objectives are to assist countries to provide quality reproductive health and family planning services on the basis of individual choice, and formulate population policies that support sustainable development. The Fund's strategy focuses on meeting the needs of individual women and men rather than on achieving demographic targets. Key to this approach is empowering women and providing them with more choices through expanded access to education, health services and employment opportunities.
Dr. Nafis Sadik, a Pakistani obstetrician, was appointed Executive Director of UNFPA in 1987, with the rank of Under-Secretary-General. She was the first woman to be appointed head of a United Nations agency. Today, she is one of six women holding similar rank in the United Nations.
Contact Information:
William A. Ryan
Tel.: +66 2 288 2446
Email: ryanw@unfpa.org