Japan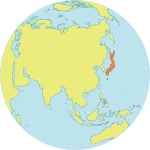 Maternal Mortality Ratio
5
Contraceptives prevalence rate
44
Population aged 10-24
14%
Youth secondary school enrollment
Related content
DHARAN, Nepal – Dhani Devi Mukhiya remembers the days when her relatives shunned her in public and her husband threatened to bring home another wife.
KABUL, Afghanistan – "I was 15 years old when I got married, and my husband was 22. My sister-in-law saw me at one of my relative's wedding and made all the arrangements for her brother to have me," Sharifa recalls.
ZAVKHAN PROVINCE, Mongolia – "Y-Peer saved my life. For that, I am so thankful," says Oyuka, recalling a time when she contemplated suicide. That was before Enkhbat, an educator with the youth peer education programme Y-Peer, reached out to her and saved her life.
Pages