Statement by Ms. Purnima Mane, UNFPA Deputy Executive Director (Programme), at the launch Nepal's National Action Plan on women, peace and security
Excellencies,
CSO Representatives,
United Nations Colleagues,
It is indeed a privilege to make a few remarks on behalf of UNFPA in this esteemed gathering.
On behalf of UNFPA, let me first take this opportunity to congratulate Nepal on this momentous occasion as it signifies the recognition of the government's commitment to women, peace and security issues. UNFPA - both at Headquarters and at the country level - has supported the Government and civil society of Nepal throughout the development of this National Action Plan, both technically and financially.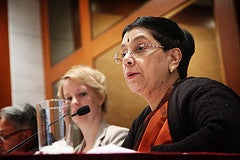 Ms. Mane spoke at the launch event that was hosted jointly by the Permanent Missions of Nepal and Norway to the UN, UN Women and UNFPA.
Photo: Norway UN Mission / Martin Lerberg Fossum.
As co-chair, together with Norway, in the Peace Support Working Group in Nepal, we have been an active partner in the peace and reconciliation process in the country over the last few years and we will continue to be actively involved as the Plan is rolled out over the next few years.
UNFPA adopts multi-sectoral, holistic approaches to address women, peace and security issues, to combat various forms of violence and in establishment of systems for coordination of response efforts. Furthermore, UNFPA addresses the impact of war and conflict on women and recognizes the need to develop leadership capabilities of women to contribute to conflict prevention as well as conflict resolution and sustainable peace efforts.
UNFPA's programme activities under Security Council Resolution 1325, 1820 and the other 3 related Resolutions thus take place in both humanitarian, post-conflict and development settings under the themes of Prevention, Protection, Participation, Data Collection and Analysis and Development of Institutional Capacities.
UNFPA will continue to expand its partnership with the government of Nepal to realize the goals as stated under this Plan. Our contributions in this area are a major part of our leading role within the UN System in line with our commitment on achieving the MDGs, the ICPD and Beijing Conference goals, and various international human rights instruments.
Again, I congratulate the Government and people of Nepal for this momentous achievement and we thank you for this honor and the opportunity to partner with you.