Canada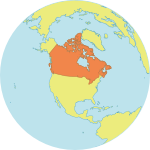 Maternal Mortality Ratio
10
Contraceptives prevalence rate
74
Population aged 10-24
16.6%
Youth secondary school enrollment
Related content
As we mark World Humanitarian Day, UNFPA salutes those who respond to crises around the world. This year, we call attention to the courage and commitment of women humanitarians who assist people amidst conflict, disasters and displacement.
From their communities to their capital cities, young people everywhere are demanding their rights, as affirmed 25 years ago at the International Conference on Population and Development (ICPD) in Cairo. In the decades since, we at UNFPA have accompanied countless young people...
Trafficking in persons exploits the most vulnerable among us, those often already disadvantaged and marginalized, including refugees and migrants. No country is immune.
More than 70 percent of human trafficking victims are women and girls, and 3 out of 4 are sexually...
Pages