Japan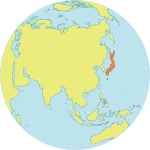 Maternal Mortality Ratio
5
Contraceptives prevalence rate
44
Population aged 10-24
14%
Youth secondary school enrollment
Related content
NAY PYI TAW, Myanmar — UNFPA Executive Director Dr. Babatunde Osotimehin met today with key national leaders to explore how the Fund can further support Myanmar's development and its reform process.
BANGKOK -- Dramatic demographic changes in Asia, coupled with persistent social inequality, require countries to urgently tackle population concerns with foresight and justice, the head of UNFPA  said today at a regional gathering of experts in the field.
ILIGAN CITY, Philippines— Life can change in an instant. When tropical storm Washi struck the Mindanao region of the Philippines in December 2011, thousands of homes were suddenly destroyed and over 500,000 people were displaced.
Pages