Ethiopia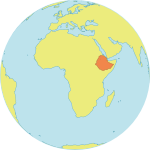 Maternal Mortality Ratio
401
Contraceptives prevalence rate
28
Population aged 10-24
33.6%
Youth secondary school enrollment
Related content
The youth centres are friendly spaces for youth amid protracted conflict in Kachin State.
Statement by UNFPA Executive Director Dr. Natalia Kanem at the High-level Meeting on "Accelerating global action for the fulfilment of rights for Afro-descendant people in Latin America and the Caribbean", San José, Costa Rica.
UNFPA awarded certificate for compensating the unavoidable greenhouse gas emissions from the facility and travel operations in 2018.
Pages