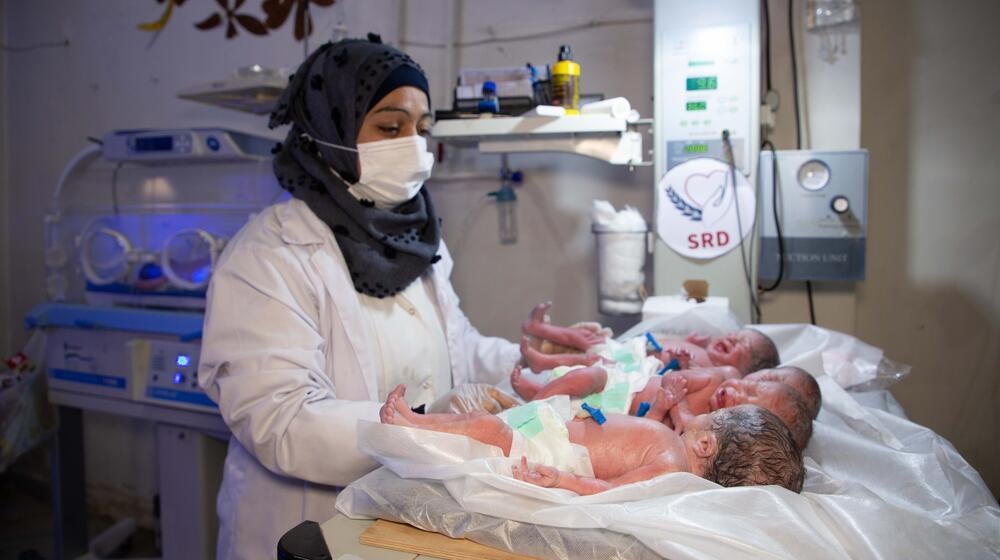 New York/Geneva, 18 February 2023 – Among the survivors of the earthquakes that devastated lives in Türkiye and Syria are around 356,000* pregnant women who urgently need access to reproductive health services.
These women include 226,000* in Türkiye and 130,000 in Syria, around 38,800 of whom will deliver in the next month.
Having lost loved ones, as well as their homes and all their possessions, many of these women are sheltering in makeshift camps or are living exposed to freezing temperatures, and struggling to access food or clean water, putting their health at risk. 
Thousands of buildings, including hospitals and UNFPA-supported facilities, have collapsed or been damaged, cutting women's access to sexual and reproductive healthcare information and services just when they need it the most.  
"Amidst all the devastation in Syria and Türkiye, women and girls affected by the earthquakes must be safe and protected, and able to access quality sexual and reproductive health care when they need it," said UNFPA Executive Director Dr. Natalia Kanem. "These services save lives and need to be an integral part of the response."
UNFPA's humanitarian response is focused on delivering life-saving sexual and reproductive health and protection information and services to women and girls in need, wherever they are.
In Türkiye, UNFPA is working with partners in Diyarbakir, Sanliurfa, Adana, Mersin, Adiyaman and Hatay, providing reproductive health and protection information and services through mobile teams and service delivery points in affected areas. Our partners are deploying sexual and reproductive health and gender-based violence mobile teams to affected towns. As well as  providing antenatal, postnatal, and neonatal care, these teams refer beneficiaries to maternal and emergency obstetric services, and provide psychosocial support to gender-based violence earthquake survivors. They also deliver dignity kits with basic hygiene items and maternity kits with essential items for new mothers and their babies. 
In Syria, UNFPA is working with partners, supporting health facilities to provide essential reproductive health services, including maternal health and psychosocial support, and intensifying outreach and mobile clinic activities in the most affected communities. Within 72 hours of the earthquakes, UNFPA transported enough lifesaving reproductive health medicines and supplies across the border to northwest Syria to meet the needs of 150,000 people in both Government and non-Government-controlled areas. A hotline has also been set up to support women experiencing violence and abuse while 20 safe spaces in Aleppo, Hama and Latakia continue to provide access to gender-based violence prevention and response services.
* Please note this figure has subsequently been updated as more details about the extent of the damage in Turkiye have become available. The total population directly affected by the quakes in Turkiye is 9.1 million. From this population we project that there are 130,000 pregnant women. This means that across Turkiye and Syria, we project that 260,000 pregnant women were affected by the earthquakes (March 2023)
Assets for media
UNFPA media contacts:
About UNFPA
UNFPA is the United Nations sexual and reproductive health agency. UNFPA's mission is to deliver a world where every pregnancy is wanted, every childbirth is safe and every young person's potential is fulfilled. UNFPA calls for the realization of reproductive rights for all and supports access to a wide range of sexual and reproductive health services, including voluntary family planning, quality maternal health care and comprehensive sexuality education.