Canada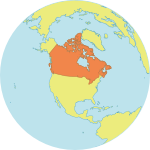 Maternal Mortality Ratio
10
Contraceptives prevalence rate
74
Population aged 10-24
16.8%
Youth secondary school enrollment
Related content
Every year, almost 50,000 teenage girls in Myanmar give birth, according to 2014 census information. Thiri was one of these girls. 
At only 19, Michelle Zeledón, from the north of Nicaragua, has been through a lot. She watched her father beat her mother, and endured years of his verbal abuse. "One time, during the Holy Week, my dad tried to kill my mother," she told UNFPA.
In the aftermath of the powerful earthquake that struck the Iraq-Iran border on 12 November, UNFPA has scaled up its emergency response to meet the needs of women and girls.
Pages