PESHAWAR, Pakistan—Growing numbers of pregnant women uprooted by conflict in the North-West Frontier Province are receiving essential medical care at facilities set up by UNFPA, the United Nations Population Fund.
A 19-year-old from Buner last week became the first woman to give birth at one of five UNFPA-supported reproductive health clinics in camps for the displaced. Taj Bibi had walked 50 kilometres in two days before reaching the Yar Hussein camp in Swabi district.
"The journey was very hard. I had to stop and rest many times," says Taj Bibi. She had rarely been outside her home before the Pakistani Army abruptly told residents of her village to leave.
When she went into labour room in her tent she was too modest to seek help despite the pain, but after two days without giving birth her husband brought her to the clinic.
"She was anaemic and dehydrated, and so weak that she fainted every time she had a contraction," says midwife Bagh-e-Gul. "We feared she would not survive the trip to the hospital, so we reassured her and made her feel comfortable and delivered the baby here."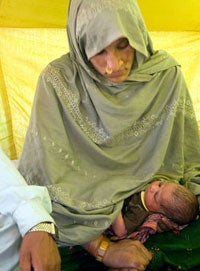 Taj Bibi's healthy infant, her second child, was born in a van equipped as a clean labour room, next to the tent where Bagh-e-Gul and other skilled female health providers offer pre- and post natal examinations and family planning services.
Four similar clinics – at Sadbarkaly camp in Lower Dir, PIMS field hospital at Jalozai camp in Nowshera, Jalala camp in Mardan and Palosa camp in Charsadda – are receiving more and more patients each day as word of the services spreads among camp residents.
Each site has a delivery room, a supply store and an outpatient clinic offering reproductive health care for women, as well as a full range of basic health services for the entire community. Staff reside at the clinic and are on call 24 hours a day.
Among the 2 million displaced people in NWFP are some 70,000 pregnant women, UNFPA estimates. More than 250 give birth every day, with as many as 40 facing potentially life-threatening complications that call for skilled medical help.
At the Pabbi Hospital near Jalozai, the largest camp, UNFPA has upgraded the maternity ward and operating room and hired a gynaecologist to handle emergency referrals. Dr. Tayyaba Rashid has delivered 20 babies in the past two weeks, one by Caesarean section.
"The women are not used to living in camps. They're very depressed and most of them complain of headaches, loss of appetite and lack of sleep. They're in very poor condition," Dr. Rashid says.
Ninety per cent of the displaced are living outside the government-run camps, severely straining local health facilities throughout NWFP. UNFPA has ordered obstetric equipment and reproductive health supplies for four more local health facilities serving displaced people and the communities hosting them.
"The trauma that women suffer when they are displaced greatly increases the risks of pregnancy and childbirth," says Daniel B. Baker, the UNFPA Representative in Pakistan. "We need to make sure that good quality, lifesaving care is available when women need it the most – which is now."
As part of the joint appeal by UN agencies and humanitarian partners, UNFPA has asked donors for $3.9 million to provide maternal, neonatal and child health care and psychosocial support, both in camps and in nearby facilities, through the end of 2009. So far just 25 per cent of the $543 million sought in total has been received.
Contact Information:
William Ryan
+66 89 897 6984
ryanw@unfpa.org
Muhammad Ajmal
+92 300 500 1724
majmal@un.org.pk