United Kingdom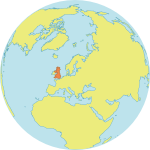 Maternal Mortality Ratio
7
Contraceptives prevalence rate
74
Population aged 10-24
17.3%
Youth secondary school enrollment
Related content
In this Opinion Piece, printed in the Huffington Post, Executive Director Dr. Babatunde Osotimehin talks about the recently published report, Ageing in the Twenty-First Century: A Celebration and a Challenge.
WASHINGTON, D.C. -- Building on its ongoing work to promote adolescent sexual and reproductive health, UNFPA will invest an additional $20 million over the next 5 years to reach the most marginalized adolescent girls in 12 countries with high rates of child marriage.
TULEAR, Madagascar – Madagascar has one of the highest rates of child marriage in the world, with devastating effects on the lives of the girls affected.
Pages