MUBENDE, Uganda/UNITED NATIONS, New York – Today, the world faces daunting challenges, from persistent poverty to entrenched inequalities. Yet one key solution is just over the horizon, if countries and leaders take action now.
In many poor, developing countries in Africa and South Asia, demographics are changing, with large numbers of young people entering working age and falling numbers of dependents. These are potential conditions for a so-called demographic dividend – economic growth that can occur when proportionally more people are working, which enables families to save and invest more money. On a large scale, these changes can lift whole communities out of poverty.
But there can be no dividend if governments do not first invest in the health, education, employment and human rights of young people.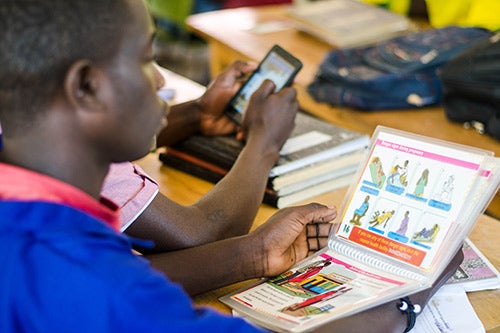 Young people at a vocational training centre learn about comprehensive sexuality education through the Youth Enterprise Model. © UNFPA ESARO/Corrie Butler
"By tapping into the massive transformative capabilities of youth, entire nations stand to ramp up their prospects," said Peter Thomson, President of the United Nations General Assembly, at a high-level meeting on the issue yesterday at UN Headquarters in New York. "We must invest more of our resources in the training of young people so they can serve as innovators, entrepreneurs and agents of change."
Youth leaders at the event echoed Mr. Thomson's call to action.
"Let young people contribute with our skills, our education, our ideas and our active engagement," said Jayathma Wickramanayake, the UN Secretary-General's Envoy on Youth.
The solution: Empowered young people
Efforts to empower, educate and employ young people can have a cascading effect on the rest of society.
Edith Nambalirwa, a 20-year-old in the Ugandan town of Mubende, offers a powerful illustration of this. Struggle is common in her community, which faces severe poverty, high HIV rates, high incidence of teen pregnancy and low levels of school completion.
Ms. Nambalirwa has experienced her share of difficulties. "I lost my dad when I was young, and I've faced so many challenges," she told UNFPA. But today, she has a robust hairdressing business, and she is a role model for other young people.
This is because, three years ago, she participated in UNFPA's Youth Enterprise Model (YEM), a programme that teaches young people about protecting their health and starting small businesses.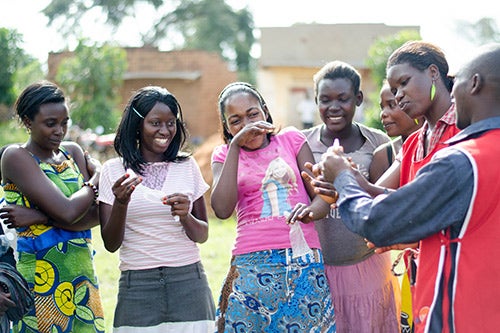 Sexual and reproductive health information enables young people to prevent unintended pregnancy and sexually transmitted infections, helping them focus on their goals. YEM peer educators do community outreach in rural village in Mubende Province. © UNFPA ESARO/Corrie Butler
Through vocational schools and community outreach sessions, YEM is giving youth information about financial literacy and sexual and reproductive health, including how to prevent unintended pregnancy and sexually transmitted infections like HIV. Information is also disseminated over the radio and through an SMS toll-free hotline.
Ms. Nambalirwa says the information enabled her to focus on growing her business. She recently relocated the salon to accommodate her expanding client base.
And she has become a peer educator, sharing what she has learned with the young people who visit her business, even convincing one client with HIV to continue taking anti-retroviral medication.
"For the young girls, it's easy because I'm young and they are also young. They can talk to me and tell me their problems," Ms. Nambalirwa said.
"I want to be an example for youth. I want to help my Uganda," she added. "If I cannot do it with money, let me do it with knowledge."
Commitments, inclusion needed
But the efforts of individuals are not enough. Government commitments are needed if countries are to harness the skills and ingenuity of their youth, emphasized the ministers, advocates and UN officials at yesterday's high-level event.
And countries must not only improve education, health care and job opportunities. They must also address gender inequality to ensure all young people have the means to emerge from poverty.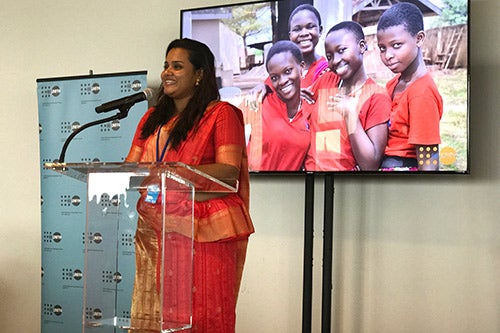 Jayathma Wickramanayake, the UN Secretary-General's Envoy on Youth, urged leaders to engage young people as partners in development. © UNFPA/Eddie Wright 
"We want our government to be committed both internationally and nationally to the issues of girls and young people," said Nur Hidayati Handayani of the Youth Coalition for Sexual and Reproductive Rights.
And young people themselves must have a say in the decisions affecting them.
"Let young people be active partners, not passive beneficiaries," Ms. Wickramanayake said.