BISSAU, Guinea-Bissau — Bullet holes still pockmark the presidential palace in Bissau, although the country's civil war was waged almost a decade ago.
The fighting raged during 11 months in 1998-1999, destroying the capital of the country, which has yet to completely recover. A devastated economy, corruption and continuing instability, continue to erode the urban centre.
"There is social and political instability even today," said Guy De Araujo, Guinea-Bissau Representative for UNFPA, the United Nations Population Fund. "There aren't conditions for the international community to be confident in their investment. We simply don't have the resources to move forward with development. Here, it is a fight for personal survival."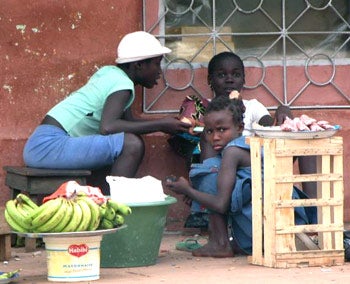 Bissau was once known as one of the most picturesque of West Africa's costal capitals, and you can still see the remnants of beauty in its crumbling facades covered with overgrown bougainvilleas and dotted with swaying palms. In the cool season, a gentle breeze wafts the fragrance of frangipani blossoms through the downtown streets, now in a constant state of disrepair and scattered with enormous potholes.
Guinea-Bissau is one of the poorest countries in the world, ranking 173 out of 177 countries in the UNDP Human Development Index for 2006. More than two decades of political instability and mismanagement have undermined the economy, which is primarily based on cashew nut export. Weak services and infrastructure destroyed over years of fighting contribute to poor social conditions. The government often struggles to pay the wages of its military and civil servants. In addition, skirmishes with Casamance separatists in neighbouring Senegal have caused thousands of civilians to flee border areas.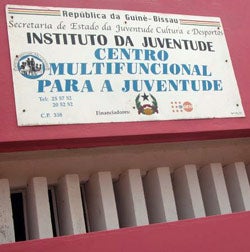 "We cannot develop in conflict. We need to motivate our partners to invest in the country. The people are tired of conflict. They want peace," said Mario Lopes Martins, Minister of Youth. "Young people are the most dynamic force in the country. They realize they need peace and stability to develop the country. With instability, there will always be poverty."
Like many countries in West Africa, Guinea-Bissau is a country made up of young people. The median age is 19. Emmanuel Dos Santos, President of the National Youth Council, sees three major problems affecting Bissau's youth: health care, particularly the general lack of information, testing and counselling to prevent the further spread of HIV (the prevalence rate is 4 per cent); inadequate training and education; and unemployment. This is a country where more than 30 per cent of the population can't find a job.
But finding a solution to the youth unemployment problem is not so simple. "Our situation is like that of many countries in the world," Martins said. "Our youth are demanding that the government train and give employment to young people. … But we don't have the means."
Twenty-four-year-old Emmanuel, who works part-time at a radio station and is currently in his second year of university journalism studies, believes that the youth of Bissau can and should be active partners in development. Youth associations are mobilizing HIV-positive youth to tell their stories to their peers to encourage them to avoid risky behaviour. They want to help reform school curriculums, which have not changed in more than two decades.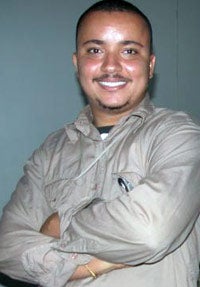 "Now is the time to take advantage of the opportunity for peace to find a solution for the development of our country," said Emmanuel, dressed in the universal uniform of youth with his slick sneakers, stylishly faded jeans and mobile phone poised on his knee in anticipation of the next call. "I will continue to agitate to improve the maladies affecting our country."
A new threat is looming. Bissau has become a popular drug trafficking hub, particularly for cocaine, as there are fewer controls than in other, more stable African port cities, said Nkitcha Na Obna, director of the National Youth Institute and supervisor of the capital's only youth centre servicing the city's 350,000 inhabitants.
"It's becoming very serious. Young people are very susceptible to these bad influences," he said. "Underemployment is an open door to drugs and prostitution. Youth delinquency, with people just sitting around with nothing to do, leads to risky behaviour."
Each month during the school year approximately 1,500 young people visit the youth centre, where they can receive confidential family planning services, as well as HIV prevention and counselling, from the centre's midwife and nurse, who work there part-time. Eight computers are available, but most are in a state of disrepair with their electronic guts hanging out. Despite its barebones appearance, the centre is an important place for young people to congregate.
"Young people have problems talking about these issues with their parents," said Joaquim Vicente Gomes, UNFPA Assistant Representative in Guinea-Bissau. "Here, they can talk confidentially with people trained to talk to youth."
In December, Bissau hosted more than 80 youth representatives for the Sub-Regional Meeting of the Youth Forum devoted to young people's involvement in meeting the Millennium Development Goals (MDGs) on issues of population and development. The forum, co-sponsored by UNFPA, brought together representatives from 10 member countries of the Economic Community of West African States, including Benin, Burkina-Faso, Cape Verde, the Gambia, Guinea, Guinea-Bissau, Ghana, Mali, Niger and Senegal, who committed to carrying out concrete actions on sexual and reproductive health, education, poverty alleviation and peace promotion.
"The voices of youth must be heard, not just by governments, but by our partners in development," Martins said. "Young people are explaining their problems, their desires. It's up to governments and the international community to make them a reality."
— Angela Walker