ULAANBATAAR, Mongolia — Like the rest of Asia, Mongolia is rapidly urbanizing, although it remains the most sparsely inhabited country in the continent. A third of the country's 2.5 million people now live in or around the capital city, Ulaanbataar, built on a high wind-battered plateau in the middle of the country.
Until recently, the outlying districts of the city have had little to offer young people, many of whom are new to urban life. But now a network of youth centres in and around Ulaanbataar provide teenagers with a safe space in which to get together, as well as opportunities to learn about, and protect, their reproductive health. The centres, which include clinical services and sexual health counselling, are part of a major collaborative effort supported by UNFPA, the United Nations Population Fund, to improve the well-being of young people.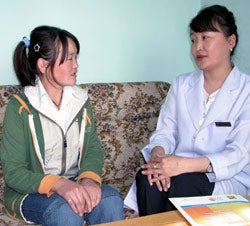 The Future Threshold Adolescent Health Centre in Songinokhairkhan, part of a housing complex built by the Russians in the 1980s, doesn't look like much from the outside. But within its spacious rooms and large reception hall young people are enjoying the freedom to hang out with friends and to talk about issues like sexuality, dating and relationships, that are taboo at home and rarely discussed in public.
In one corner, chess players are mulling over their next moves. In another, a few teenage girls are comparing notes about boyfriends over strong Mongolian tea. A young woman passes through the room on her way to an appointment with the doctor. Two peer educators, Lusmaa and Batjargal, are engaged in an animated discussion with a small circle of teenagers about the importance of healthy lifestyles. Both are also Teen Board members, and have a say in how the centre is run.
"We have a say in how each facility is run and what kind of information and services we get," says Lusmaa. "This is one more reason why these centres are so popular."
The availability of counselling to help young people sort out issues relating to sexuality, relationships, family life and health issues is another reason that the centre is so popular. "We have about 5,000 young people coming here for services on a yearly basis, 70 per cent for counselling," says the centre's doctor, Dr. Baatarkhuu. She is a former pediatrician who now specializes in adolescent reproductive health. "Many more youth come just to hang out," she adds.
Down the hall, the centre's reading room is packed. Several young people are pouring over copies of the latest edition of Love. Like teen magazines in many Western countries, this one mixes articles about popular culture with information about self-esteem, body image, sexual decision-making, relationships, communications, puberty, gender and sexual health. But Love has a teen board that has assumed an important role in guiding its coverage. Adolescents contribute to the "Teen Voices" page and the "Dear Hulan" advice column, which has included questions from young women who have been raped by family members, and from young men trying to deal with rejection.
Young people in Mongolia are hungry for the kind of frank discussion the magazine provides, especially in language they can understand. Social mores are changing, as the age of sexual initiation is dropping and men and women are marrying later. Young people here, as elsewhere, often need help in safely navigating this new intimate territory. Over 150,000 copies of Love are printed every quarter and distributed to schools, universities, youth centres, medical facilities, doctors' offices and government bureaus.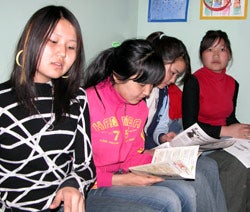 The magazine, like the teen centres, was launched following a major survey conducted in 1999-2000. The survey found that nearly 78 per cent of Mongolian adolescents felt that they lacked open communication with their parents. A third felt intimidated by classmates and said that their teachers were authoritarian. The survey also pointed out the need for out-of-school and after-school activities for young people, as well as for reproductive health information and services.
One outcome of the survey was the establishment of eight Future Threshold Centres, which were established under an integrated programme known as "Improving the Outlook of Adolescent Girls and Boys in Mongolia." The initiative brought together UNFPA, UNICEF, UNESCO and WHO working as partners, with overall funding provided by the United Nations Foundation. The two main Government counterparts were the Ministry of Health and the Ministry of Science, Education and Culture.
Using the first eight as models, UNFPA subsequently set up another five Future Threshold Centers. They now operate in four districts of Ulaanbataar, as well as in five other provinces.
On the other side of town from Songinokhairkhan, in a district dominated by traditional round gers (or yhurts, as they are also known) is another youth centre. Many of the young people it serves are the sons and daughters of migrants from the countryside. With rural economies not fully recovered from the long transition to a market economy, increasing numbers of herder families are abandoning their traditional livelihoods and cultures to seek employment and a better life. But the transition is not always smooth for families as a whole, or for young people in particular.
With unemployment high, a growing number of families are hard pressed to make ends meet. Domestic violence affects an increasing number of women and children. Drug abuse and alcoholism among young people are also on the rise.
"Because of problems at home, including alcoholism and abuse, a number of adolescents regard this centre as a refuge, a place where they can feel safe and talk to their friends or our counsellor about a whole range of concerns. It's a home away from home for them," said Dr. Tuul, this centre's medical doctor, who has received special training on youth-friendly services through a UNFPA-sponsored programme. "We get 300 adolescents and young people here every month, most of them in the age group 15-19," says Dr. Tuul. "So far most of our clients are adolescent girls, but increasingly more boys are coming in for advice and services."
Dolgion is a 15-year-old who has served as a peer educator and a member of the centre's teen board for the last year. She points to a sign – "Your secrets are safe with us" – on a door to the private counselling room. "We place a lot of emphasis on confidentiality here," she says. "It's one more reason why this centre is a very popular place with young people. Most of my friends come here to relax and hang out, as well as get services."
Dolgion is conversing with a small group of adolescent girls who have come in to talk with the doctor. They are sitting under a large banner displaying the UNFPA logo. "I invited these girls from my high school to come in today to see the centre," she says with a grin. "They like the atmosphere and will probably return. We all need safe places where we can relax and talk about subjects that we can't discuss at home."
Dolgion's work as a peer educator has added to her popularity at school. "Kids come up to me with all kinds of questions about sexuality and relationships," she explains. "If I don't know the answers I direct them here to the centre and the doctor or our counsellor.
"The parents of the kids I bring here thank me and UNFPA for these services," she continued. "They know we are making a difference and that their children are better off because of these Centres." 
— Don Hinrichsen