Preliminary results of the first total census in Timor-Leste since its independence in 2002 were released in the capital, Dili, earlier this month. Prime Minister Mari Alkatiri announced the much-awaited figures at a public ceremony on 14 September at the National Statistics Directorate in Dili. The event was attended by the United Nations Secretary-General's Special Representative, Sukehiro Hasegawa, the Council of Ministers of Timor-Leste, heads of international and United Nations agencies and members of the diplomatic community.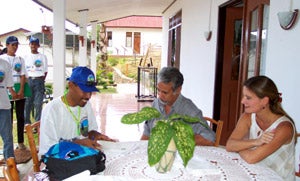 Census 2004, conducted with financial and technical support from UNFPA, provided Asia's newest nation with its first data sets of demographic and socio-economic indicators. The census was conducted from 11-30 July by nearly 4,000 enumerators who visited over 190,000 households across the county. With a large segment of the population living in remote mountainous regions that lack road access, census takers had to rely on donkeys, mules, boats and trekking to reach every single person.
Timor-Leste's census was the first in the world to use Global Positioning System (GPS) technology. Small devices received signals from satellites to determine the exact locations of the enumerators. This data was plotted on aerial photographs taken by the Australian Armed Forces, allowing census managers to determine the houses where interviews were done, and, more important, which households were missed. The technology also helps data analysts and researchers to produce a range of spatial maps showing the demographic, health, employment, literacy and home ownership patterns in the country.
Speaking at the function, Dan Baker, UNFPA Representative in Timor-Leste, said: "The striking finding of the census is that the population will hit the one million mark in the next two years at the current birth rate of over 40,000 per annum. The country as a whole has to reflect on how it will provide for the needs of such a quickly expanding population."
The total population of Timor-Leste, according to early results, stands at 924,642. Its fertility rate is 7.5 per woman – one the highest in the world. The high number of returnees from West Timor has also contributed to the population increase in the past several years.