VAVUNIYA, Sri Lanka — The birth of a child should be a time of joy. But for Imanandi, who is pregnant and displaced in war-torn Sri Lanka, the danger and uncertainty all around obscures the hope that new life brings. She is overwhelmed with worry for the child who is due any day: How will I protect my baby from danger? How will we survive when water and food is so limited? Will we have to flee again? Will we ever be able to go home?
Sri Lanka's long-running civil conflict has taken its toll on thousands of families, uprooting them from their homes and forcing them to flee for their lives. Over the years, the war has killed over 70,000 and injured and displaced hundreds of thousands more. Yet to the rest of the world, Imanandi and her family and those like her are a forgotten people in a forgotten conflict.
In recent months, the Sri Lankan government has regained control of many rebel-dominated areas. The intensity of the fighting has displaced dozens of communities and people are now arriving into towns where they are placed into temporary shelters. In February, 32,000 internally displaced people arrived in Vavuniya district, including an estimated 700–800 women who were in different stages of pregnancy. Many of these women, like Imanandi, have been on the run for months and under extreme stress. This stress can have all sorts of adverse effects on their pregnancies, including premature labour. Without access to health care, pregnancy-related disabilities and death are a real risk. Yet in conflict situations such as Sri Lanka's, reproductive health services, including prenatal care, assisted delivery and emergency obstetric care, are often disrupted or inaccessible to those who need them most.
How do I protect my children from violence?
Imanandi -- with her husband, two children and unborn baby in tow --has now found shelter at a secondary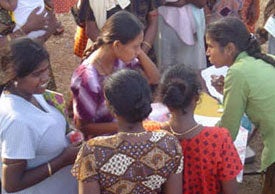 school in Vavuniya where seven families are crowded into one small classroom. Over 600 people in the shelters have come down with chicken pox, and the night is filled with sounds of coughing children. Although they are out of firing range now, and don't have to fear for their lives, caring for a family in temporary housing is bringing new concerns to this mother's mind. They seem simple, but they affect every minute of every day: Where can my children and I bathe in privacy? Should my husband accompany me if I have to use the latrine at night or can I go alone? Where can I breastfeed my baby? What will happen to us tomorrow if the shelter closes?
Some of the temporary shelters do not provide separate bathing and toilet facilities for men and women, and pathways to these areas are often dark and potentially dangerous for unaccompanied women and girls if they have to use them at night. This is not an issue only in Sri Lanka: any camp housing displaced individuals needs to be designed with the safety of women and girls in mind. Yet in the rush to set up temporary camps, this often goes unplanned for even by the most well-meaning authorities.
Will I have to deliver alone?
In Vavuniya, a town once considered a front line of the war, many pregnant women arrive uncertain of their delivery date. In collaboration with the Ministry of Health, the Family Planning Association of Sri Lanka and UNFPA, the United Nations Population Fund, is supporting mobile clinics to provide antenatal care, including free ultrasound screenings, so that these women can be better prepared for their upcoming deliveries.
To protect maternal health, the Ministry of Health has determined that displaced women should be admitted to the local hospitals about two weeks before their due date. Yet because there is severe restriction on movement in and out the temporary shelters in Vavuniya, some of the women who responded to a recent UNFPA-supported assessment expressed concern about staying in the hospital for long periods of time because their family members would not be able to join them. One woman who was awaiting delivery reported that she had only been able to see her husband once since coming to the hospital.
"A mother does not want to be separated from her family especially when she is about to give birth," said Lene K. Christiansen, UNFPA's representative in Sri Lanka. "Having a baby is a very stressful process for any woman and if she is separated from her other children, especially the very small ones, it will be very hard for her, because she will worry about them all the time – if they are looked after, if they are being fed properly, if they are safe."
In search of a solution, UNFPA is working on establishing a communication channel for families through establishment of an open phone line between maternity wards and the camps. UNFPA will also support the Ministry of Health to furnish a ward in a nearby hospital where post-partum patients and infants can stay during their recovery period. The Fund is also advocating that at least one family member (a grandmother or older daughter) as well as any infants less than five years of age be allowed to stay at the hospital with the woman and is also facilitating communication between mothers and family members, with support from family counsellors.
Under very challenging circumstances, health authorities, NGOs and UN agencies in Mannar and Vavuniya are working hard to ensure women have access to life-saving services by allowing them to stay ten days in the hospital following their delivery to ensure both mother and baby are healthy. Hopefully this will take some of the worry from a mother's mind, if even for a moment, and allow Imanandi -- who has not yet picked out a name for her baby -- to bond with her newborn before returning to the crowded room at the school.
                                                                          — reported by Maha Muna in Sri Lanka and Shannon Egan in New York
UNFPA, in cooperation with district health authorities, is supporting Vavuniya and Mannar districts by providing emergency transport for life-saving obstetric care. Surgical equipment and supplies for Caesarean operations have been provided to the Vavuniya General Hospital, which serves displaced women with pregnancy complications. At the same time, clean delivery kits are being distributed to pregnant women in camps for the displaced in case they have to deliver in the camp.
Mobile reproductive health clinics offering a range of reproductive health services – including prenatal and post-natal care and prevention of sexually transmitted diseases and HIV – have also been set up in these two districts. Sanitary towels and undergarments are being provided to allow women and girls of reproductive age to maintain their basic personal hygiene. UNFPA is also working closely with health authorities to ensure that camps for the displaced have separate bathing and toilet facilities for men and women and well-lit paths for the safety of women and girls.