MUZAFFARABAD, Pakistan-administered Kashmir — Bushra, 17, went into labour a few days after the earthquake struck, but the baby didn't come. Two days later, her family managed to get her to the only functioning maternity ward here. She delivered normally, but then began to bleed severely.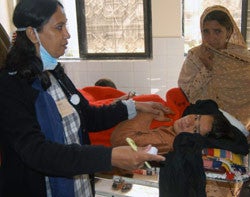 "We removed the uterus and saved the life of that woman," said Dr. Farhat Malik, a gynaecology professor from Islamabad sent by the Government to re-establish maternal and child health services at the AIMS Hospital. "It was a last resort. She came in a very bad shape."
At an ad hoc delivery room in the damaged district hospital in Mansehra, North West Frontier Province, doctors also saved the life of Rezia, 30. "She was bleeding heavily when they brought her in. She probably ruptured the placenta during the earthquake," said Dr. Sania Tanver. "We gave her three pints of a blood and performed an emergency Caesarean section. She and the baby are healthy and we are going to discharge them today."
Both doctors said that prompt assistance by local staff of UNFPA, the United Nations Population Fund, had made it possible to get the maternity facilities up and running in a short time. "UNFPA has given us tents for the patients and a lot of supplies. We asked them for kits for hepatitis screening, because we need a lot of blood," said Dr. Tanver. "They were the first to come here, because they are based in Mansehra."
The 8 October earthquake destroyed a large number of health facilities and thrust the health system into chaos. Tens of thousands of people were killed and many more suffered serious injuries. Women who were in their houses and children at home or in schools were especially affected.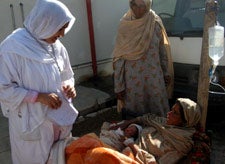 Providing adequate shelter, food, water, sanitation and health services to the estimated 4 million survivors in this mountainous region, including as many as 3 million who are now homeless, is the greatest logistical challenge the humanitarian community has ever faced. A variety of international organizations are assisting Pakistani authorities in this monumental task. UNFPA is working on health as part of the United Nations coordinated sectoral approach to the crisis, with a focus on safe pregnancy and childbirth.
UNFPA Pakistan has district offices in Mansehra and Muzaffarabad. Staff members were very active immediately after the earthquake, arranging shipments of medical supplies from Islamabad and helping establish emergency health services.
Dr. Syed Arif Hussain, district programme officer in Mansehra, contacted the district hospital to find out what they needed. "Hundreds of patients were pouring in and they didn't have enough supplies." He bought whatever he could in the local market, and called the UNFPA country office to ask for tents.
Dr. Arif also organized a fleet of ambulances and health worker teams to retrieve the badly injured from the totally destroyed city of Balakot. "That first night was so miserable," he recalls. "Those of us who were there will not forget it our whole lives."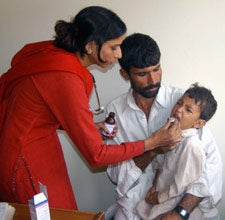 UNFPA's mobile service units in each district were quickly deployed to sites where local health centres were destroyed. More were brought in from other districts hundreds of kilometres away, and were moved into remote areas as soon as roads were cleared.
Nine mobile units are now working in the two hard-hit districts, each serving about 250 patients a day. Most are staffed by a female doctor, a nurse-midwife, and male and female health attendants. They offer women antenatal care and treat gynaecological conditions, while also addressing a wide range of ailments affecting children, men and women who survived the earthquake.
In the severely damaged town of Gali Habibullah, Mansehra District, most of the hospital collapsed. A UNFPA mobile service unit from southern Punjab Province has been set up on the grounds.
Dr. Naheed Anjun says many patients have skin infections from untreated wounds suffered in the earthquake. A number of children are being treated for respiratory infections or severe diarrhoea resulting from their exposure to the cold and unsanitary conditions. And about half of those she sees need counselling for depression, anxiety, sleep or appetite loss, and fear of further earthquakes.
One woman is about to give birth. She will need a Caesarean section, since she previously had one. Because she is too traumatized to travel to the district hospital, Dr. Anjun will perform the procedure in a makeshift operating room at the site.
Another unit is based outside the rural health centre in Choki, where a new maternity ward installed by UNFPA just six months ago is now in ruins. A large crowd gathers outside the two tents, one for women and one for men. Dr. Bushra Manar is conducting a prenatal exam. She has already seen hundreds of patients in the first week and has delivered two babies without complication. "We have ample supplies," she says, "and we have an ambulance to take patients to Mansehra if we suspect there will be problems."
The health and welfare of pregnant women is a major concern in this ongoing crisis. Throughout Pakistan, an estimated 540 mothers die for every 100,000 live births. As many as 9,000 births are expected per month in the affected areas. The earthquake wiped out the already limited maternal health facilities, and many female health providers were killed, injured or displaced. Pregnant survivors are anaemic, malnourished and especially susceptible to infections and disease. Many inter-uterine deaths and miscarriages have been reported.
Today, UNFPA sent a new shipment of emergency reproductive health equipment and supplies to Muzaffarabad and Mansehra. These include 20,000 individual kits for clean home deliveries, to be given to women who are six months pregnant, and kits for 10,000 clinical deliveries by doctors and trained midwives.
There are also kits for blood transfusion, management of complications of miscarriage, and stabilization of pregnancy complications before referring precarious cases to higher-level care. For referral facilities, there are kits for Caesarean sections and resuscitation of mothers and babies. These kits will be used by UNFPA's nine mobile service units, and distributed to government and NGO partners providing primary health services in the two districts.
As part of a consolidated humanitarian appeal for Pakistan, UNFPA is asking donors for $9 million to support reproductive health needs and $1 million for hygiene supplies.
Contact Information:
Islamabad: William A. Ryan, mobile +66 9 897 6984, ryanw@unfpa.org or Shahida Fazil, +92-51-2800133, Ext. 2388, fazil@unfpa.org
New York: Abubakar Dungus, +1 212-297-5031, dungus@unfpa.org