On the outskirts of Freetown, up a red clay road gashed by hard rain, sits a makeshift shelter some women call home. One of these women is 19-year-old Khadija Bah. "I found this place a long time ago," she said. "I was living a bad life and met Auntie Juliana."
"Auntie Juliana" is Juliana Konteh, a 42-year-old Evangelist missionary who started the Women in Crisis project in 1997. "I met some ladies in a brothel and decided to help them," she explained. "They needed food, clothing, care and attention."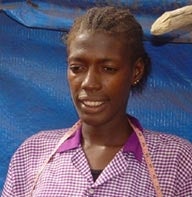 Today, some 400 women and girls, many who suffered terribly during Sierra Leone's brutal civil war, receive care and attention at this hilltop site. Although Khadija is still a teenager, her experience betrays her youth. Made to watch her parents being killed before her eyes, she was then raped in front of her husband, who was promptly executed. After that, Khadija said, she was abducted by the rebels and taken as a bush wife, forced to meet their every need.
More than a decade of war has left this lush coastal nation and its people deeply scarred. An estimated 60,000 people were killed and thousands were severely and purposely disabled. During the conflict, rape and sexual abuse were widespread. One in three persons were uprooted and forced to leave their homes. Many, like Khadija, headed to Freetown.
Today the city is overcrowded with people, eager to rebuild their lives. Many are girls and women who lost their families in the war and are struggling to survive. Thousands have turned to commercial sex work but with HIV/AIDS on the rise, such a living can be deadly.
The Women in Crisis project offers a lifeline to women like Khadija, who have nowhere else to turn. Since 2001, UNFPA, the United Nations Population Fund, has been providing support to bolster services. Drop-in centers offer counseling and training, and clinics offer services to prevent and treat sexually transmitted infections.
Just a short drive from the makeshift site on the hill is a new building that is nearing completion. The three-story cement block structure will be the new vocational training center, where the women will continue to learn fabric tying and dying, tailoring and hairdressing skills. There will also be a health clinic, to which the Ministry of Health has promised to assign nurses. Additional funding is needed to complete construction and pay teachers, who are now volunteering their time, said participants.
This project is a "token in a sea of needs," said the UNFPA Representative in Sierra Leone, Mamadou Diallo. "But it shows that these things can work."
--Ann Erb-Leoncavallo