KALOMBA, Democratic Republic of the Congo – Jacqueline Lusambo is 18 and pregnant, and has spent the last six months living in the bush, hiding from the conflict that rages through Kasai Central, in the Democratic Republic of the Congo.
She did not think it would be this way. When she learned, eight months ago, that she was pregnant with her second child, she and her husband were living comfortably in the village of Milambo.
But violence between government forces and armed groups soon reached their area. Neighbouring villages were burned to the ground. People were abducted and killed, she told UNFPA.
After their family fled, Ms. Lusambo found herself alone, caring for her one-year-old boy, wondering how she would give birth on the run.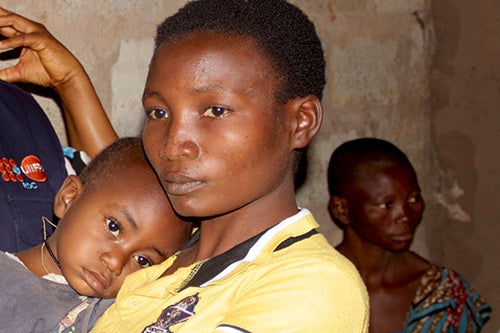 Jacqueline Lusambo with her son at the mobile clinic in Kalomba. ©UNFPA DRC
"Afraid to go out to health centres"
Ms. Lusambo is one of an estimated 1.4 million people in Kasai who have fled their homes over the past year. She has not heard from her husband since February, and is uncertain if he is one of the 3,300 people thought to have been killed.
"There are many dislocated families with tragic stories like that, as the violence that has started in Central Kasai has now spread across the five provinces of Kasai, Kasai Central, Kasai Oriental, Sankuru and Lomami," said Innocent Ilenga, a coordinator  with ADSSE, a local NGO that is registering  displaced people.
UNFPA and partners Caritas Congo and Caritas Kananga have deployed mobile clinics to reach pregnant women and others in need of reproductive health care. 
"That is the only way we can reach these women and save their lives, as most of them are afraid to go out to health centres for antenatal care," said Dr. Marguerite Kunduma of UNFPA.
The mobile clinics are reaching areas where heath centres and hospitals have been destroyed, and are also providing existing health facilities with basic and emergency reproductive health supplies and services, she said.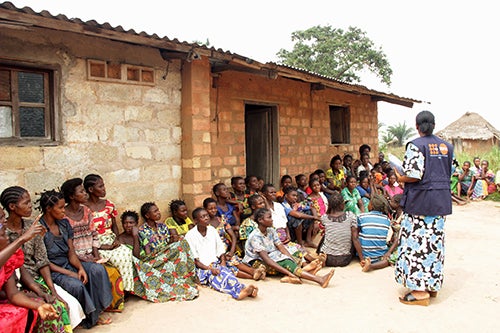 Midwife Agnes Bilondo speaks to women about the importance of antenatal care and the signs of pregnancy compilcations. Visitors to the clinic also receive information about family planning and services for survivors of gender-based violence. ©UNFPA DRC
Ms. Lusambo arrived at the mobile clinic in Kalomba with her son, now 20 months old. It was the first antenatal check-up of her pregnancy.
She is not unique, says Agnes Bilondo, the midwife from Tshikula Hospital, which is supporting the mobile clinics. She said there are many who have never even visited a health centre, and who give birth in the bush, unattended.
During the day of Ms. Lusambo's visit, nearly 180 pregnant women received care, and eight pregnancy complications were detected and referred to the Tshikula Hospital.
Because malnutrition is increasingly a concern among the affected population, the women received deworming drugs and vitamin supplements. And they also received individual clean delivery kits, which contain sterile equipment to help them deliver at home if they are unable to reach a health facility.
The power to help
The conflict has affected 170 health centres in the Kasai Region.
In response, UNFPA has supplied reproductive health kits to 25 health facilities in the eight worst-affected health zones in Kasai Central, Kasai and Kasai Oriental. These kits contain the supplies needed to manage a range of reproductive health concerns, including emergency obstetric care and post-rape treatment.
The kits are projected to last three months, meeting the needs of an estimated 450,000 people, including 22,500 pregnant women, said Dr. Polycarpe Takou, UNFPA's humanitarian coordinator. "Two thousand seven hundred gender-based violence survivors and 3,000 women with obstetric complications could be managed," he said.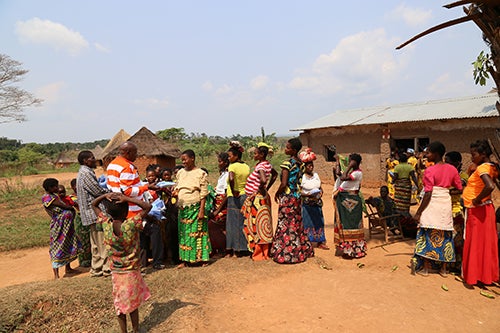 News of the mobile clinics has circulated quickly among affected communities. ©UNFPA DRC
"We can now provide post-rape care and address sexually transmitted infections," said Louis Tshiyoyo, a nurse at the Kalomba health centre. He said they were able to treat 64 cases of sexually transmitted infections and two rape survivors the day of the mobile clinic.
"We were powerless before," he said.
Much more needed
Still, much more is needed.
"We urgently need to scale up our humanitarian response through the establishment of more accessible gender-based violence services and sexual and reproductive health interventions," Dr. Takou said, "and for that we need more funding."
The UN flash appeal for Kasai, launched in late April, "is just funded at 26 per cent," he added.
UNFPA is now working to establish a hub in Kasai Central Province to better address reproductive health needs and to assist survivors of gender-based violence.
These services are sorely needed, Ms. Bilondo said, noting that health staff are overwhelmed by the number of people seeking care every time the mobile clinic is on the road.
"We screen 150 pregnant women at least, every time we are out," she said.
As for Ms. Lusambo, she is determined to return for a follow-up visit, despite the three-hour walk it takes.
"I will continue to come until I deliver," she said, adding that she has to stay healthy her children. Right now, she is all they have. 
– Assane Ba