HAMBANTOTA, Sri Lanka—Sitting in a tent in the stifling heat, Latha Wijesiri, a volunteer health worker, talks quietly with four women about their immediate emotional and physical needs. One of the women, the youngest, lost her husband to the tsunami which ravaged Sri Lanka's southeast coast a month ago. The rest have lost relatives and friends. All have lost their homes and livelihoods.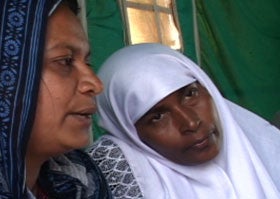 The entire waterfront section of the city of Hambantota was swept away by three massive waves. In the aftermath, 4,500 people perished in this district and thousands were left homeless. Some 500 traumatized survivors, living in tents on the rubble of their fishing community, are now trying to rebuild their lives.
"I was trained in 1997 by UNFPA [the United Nations Population Fund] as a community health worker," says Wijesiri. "Now following this tragedy, I received special training in psycho-social support as well. I visit these camps several times a week to assess the women's psychological and social needs. And once a week I train other women in reproductive health issues, including counselling."
Wijesiri is a member of Sardovaya, one of the country's largest NGOs. "We lost 800 of our members to the tsunami," she sighs. "I feel it is my duty to do as much as I can to help the women of this district to recover and rebuild."
She also is assessing the security needs of women and adolescent girls living in temporary shelters and tents. "We have received reports of gender-based violence in this district, especially in the days immediately following the disaster, and we are monitoring this situation in the refugee camps very carefully," explains Wijesiri. "Woman and girls are especially vulnerable in these situations."
A $610,000 grant from the German Government will be used to address sexual and gender-based violence in Sri Lanka. The grant will also be used to assist victims by providing services, including long-term psychological support.
The Health Ministry has estimated that only 5-10 per cent of survivors will need targeted psychological support, the majority of them women and girls who have lost family members and their homes. However, many thousands will need continued social support. "Some of these women are really in a terrible emotional condition," points out Wijesiri. "We think that counselling and other forms of emotional support will have to continue for at least six months."
In the last tent, Wijesiri visits a young Muslim woman sitting alone with her youngest child. She was saved from the waters by her husband. But like everyone else in this former fishing community, she lost her house and all her possessions. She tries to put on a brave smile, but soon loses all composure. When asked what she expects in the future, she replies simply: "nothing."
Wijesiri makes a note of her name and tent number. "This woman is going to need a great deal of support," she says. "I hope that I can give her some measure of hope for the future and help her regain her life. There are many women like her."
***
UNFPA is assisting governments and local populations in all the countries affected by the devastating earthquake and tsunami. To support the Fund's emergency response to the disaster or learn more, please visit www.unfpa.org.
For more information, please contact:
New York: David del Vecchio, delvecchio@unfpa.org, tel. +1 212 297 4975, mobile +1 917 518 7743 or Omar Gharzeddine, gharzeddine@unfpa.org, tel. +1 212 297 5028.
Bangkok: William A. Ryan, ryanw@unfpa.org, tel. +66 2 288 2446, mobile +66 9 897 6984.
Indonesia: Maria Endah Hulup, mendah.unfpa@un.or.id, tel. +62818942050 or +6281511576660.