GENEVA — UNFPA, the United Nations Population Fund, and the United Nations High Commissioner for Refugees (UNHCR) signed an agreement here today to strengthen their combined efforts to respond to the sexual and reproductive health needs of populations displaced by crisis.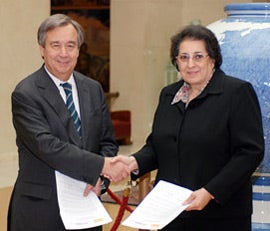 The agreement was signed by UNFPA Executive Director Thoraya Ahmed Obaid and High Commissioner for Refugees António Guterres. The memorandum of understanding aims to broaden the cooperation and coordination between the two agencies and reinforce an existing agreement signed between UNFPA and UNHCR in 1995.
The initial agreement ensures UNFPA and UNHCR join forces in responding to the sexual and reproductive health needs of displaced populations, including the collection of accurate population-based data, which helps humanitarian agencies provide more effective relief and identify more efficient resolutions.
Together, UNFPA and UNHCR have worked to protect displaced populations from sexual violence through the provision of training, guidelines and resources for the clinical management of rape. In collaboration with the International Rescue Committee, the three agencies are working on an information management system that will help develop better strategies for the prevention of sexual violence in displacement settings.
In the past, UNFPA has worked with UNHCR to supply male and female condoms to refugees and internally displaced persons in more than 20 countries. In 2005, UNFPA and UNHCR provided over 2.7 million male and female condoms in Central African Republic, Chad, Democratic Republic of Congo, the Republic of Congo, Rwanda and Ethiopia. More recently 12.5 million condoms arrived in Bangladesh, Benin, Burundi, Djibouti, Kenya, Liberia, Mozambique, Nepal, Pakistan, Sudan, Tanzania, Thailand, Uganda and Yemen.
UNFPA and UNHCR are also partners of the Manu River Union AIDS initiative in Guinea, Liberia and Sierra Leone, which aims to reduce the transmission of HIV among vulnerable populations in post-conflict settings by promoting HIV/AIDS information and prevention at regional levels as a unifying and peace-building theme.