KABUL—In Afghanistan today, in the face of overwhelming need, even small interventions are producing real progress.
With support from UNFPA, the United Nations Population Fund, non-governmental organizations are building clinics and training staff to serve rural communities with no medical care. Health authorities are developing strategies for reducing maternal mortality. And census teams are counting people in remote villages, in the first attempt in a quarter century to learn the actual size and distribution of the population–a key step in planning the country's political and economic future.
A year and a half after the U.S.-led ouster of the Taliban, news reports from Afghanistan emphasize the ongoing instability—notably conflicts among warlords in the north and west and guerrilla activity in the east and south—undermining post-conflict recovery and the consolidation of President Hamid Karzai's government.
Yet despite these undeniable difficulties, Afghans and aid agencies are starting to make important gains in countering the devastation wrought by 23 years of war. In Kabul, patrolled by international troops, signs of reconstruction abound. Beyond the capital, advances are also evident—but so are the appalling hardships endured by a people still woefully lacking basic social services.
A UNFPA media team returned to Kabul in July to document progress since two prior visits in early 2002. With the Fund's support, its partners have rehabilitated an important hospital, successfully started to enumerate households throughout the country, and begun to identify key steps to improve reproductive health and save women's lives.
The team also travelled to Mazar-i-Sharif in the north to visit NGO-run facilities providing maternal and child health services and emergency obstetric care to people in remote villages.
We met dedicated professionals involved in this progress, including Afghan doctors working to expand services for their country's poor, an innovative Afghan educator who is establishing schools and job training centres; Japanese aid workers managing rural clinics, and an American midwife helping to make motherhood safer. (See story on NGO partners.)
One clear success is the Khair Khana Hospital in north-west Kabul, rebuilt and refurbished with support from UNFPA and the Italian Government; the modern facility, once dirty and under-equipped, now offers Caesarean deliveries and other emergency services previously unavailable in that part of the city (see press release on Khair Khana inauguration). News of these services at the newly reopened hospital later, we returned to Khair Khana and met several mothers whose own lives or their infants' had been saved there.
Progress on the human rights front was evident in Kabul, at World Population Day ceremonies, where senior officials spoke about the urgency of countering widespread early marriage, which is detrimental to the reproductive health and rights of adolescents; female secondary school students interviewed afterwards said they would refuse early marriage (see WPD press release).
UNFPA's Priorities: Census, Maternal Health and Women's Empowerment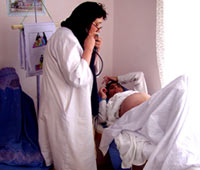 UNFPA is supporting Afghanistan's reconstruction as part of the integrated United Nations mission to that country. Its priorities, says Maria Pia Dradi, the Fund's Chief of Operations in Afghanistan, are: to support preparations for a much-needed national census; to improve reproductive health care including safe delivery and family planning services; and to improve the condition of women through support for women's centres, education and training. "We need to pay special attention to women's issues," she stresses.
Support for the census work by the Central Statistics Office (CSO) accounts for the largest share of UNFPA funding in Afghanistan. The first phase, a household listing exercise, began in January 2003 and is due to be completed next March. Seven of Afghanistan's 32 provinces have been counted so far, and work is now under way in three more.
In the area of reproductive health, UNFPA is working with the Ministry of Health and some 22 NGO partners to reduce Afghanistan's horrific maternal mortality rate, estimated at 1,600 deaths per 100,000 live births. "We have to assist the government in providing antenatal, assisted delivery and post-natal care, in delivering supplies and commodities, and in improving information an education to the people," says Ms. Dradi.
"We will also strengthen our cooperation with NGOs, especially in rural areas. They are often in close contact with people in the villages." Only 5 per cent of births in Afghanistan involve skilled birth attendants, and only a small minority of women have access to emergency obstetric care. NGOs provide most of the available services, and UNFPA helps them by providing safe delivery supplies and medicine. It is also funding training efforts, including refresher training for doctors, midwives and birth attendants—an urgent need given the country's severe shortage of health professionals, especially women.
Dr. Hedayatullah Stanekzai, general director of policy and planning at the health ministry, notes that in addition to its financial support for training, supplies and Internet connectivity at the ministry, UNFPA is playing a key role in a task force on reproductive health. It is leading four working groups developing a national reproductive health strategy, family planning guidelines, a contraceptive logistics system, and strategies and policies addressing adolescent reproductive health.
"Providing contraceptives and introducing them to rural areas is one of the main areas of focus," notes Dr. Stanekzai. This will be a critical step in voluntarily reducing the high fertility that is a major contributor to maternal deaths, along with poor nutrition and the lack of medical care. "Our first task is to increase awareness," he says. This effort will involve mass media, including radio and newspapers, health education among those who visit clinics, and training of traditional birth attendants and community health workers. Because illiteracy is so widespread, word of mouth is critical.
"Of course it is not easy to bring change in the community, but experience has showed that if we convince religious leaders and other community leaders and pose our messages as properly as possible, people will support us," he adds.
Similarly, advocacy campaigns will be undertaken in schools, the mass media and community programmes to combat early marriage and early pregnancy, which also contribute to maternal mortality.
UNFPA is also assisting the ministry in developing a strategy for preventing the spread of HIV/AIDS before it becomes a serious problem for Afghanistan.
Up to now, the Fund's collaboration with the health ministry has centred on Kabul. In addition to the restoration of the Khair Khana hospital, it has provided medical equipment, supplies and ambulances for the capital's two main maternity hospitals. The next UNFPA assistance programme will focus on reaching under-served rural areas where maternal mortality is even higher than the national average. Starting this month, it will support the renovation of maternal and child health facilities in the remote, mountainous Badakhshan province.
It will also work in Badakhshan with the Ministry of Education and the Ministry of Women's Affairs on education projects. "Our mandate is to improve reproductive health services, but at the same time UNFPA is committed to improving the condition of women, to empowering them. This means support for literacy programmes and income-generation activities, "Ms. Dradi says. "We will also work with Afghan men, to get them involved in improving reproductive health."
In addition, UNFPA will collaborate with the Ministry of Women's Affairs to support reproductive health activities at women's centres in each of Afghanistan's provincial capitals. Ms. Dradi is also committed to stronger cooperation with UNICEF and UNIFEM (the UN Development Fund for Women), and to continued support of the Afghan Human Rights Commission's promotion of women's rights.
"Our country is moving from an emergency situation to a post-conflict rehabilitation phase," notes Dr. Stanekzai. "We are very grateful for UNFPA's support, and we will need even more assistance—for training, capacity building and to implement the reproductive health strategy—so the people of Afghanistan can lead a healthy, normal life."
-William A. Ryan