TBILISI, Georgia— With their houses burned and bulldozed, and their families torn and splintered, many mothers and their children here are still in a state of shock. "We fled out of the village and took a high road to get out," said Nina, a mother living in the Tskhinvali region where political tensions arose in early August. "But I wish we had not left this way because we could see the lower road being bombed, and fleeing civilians being killed in their cars," she explained.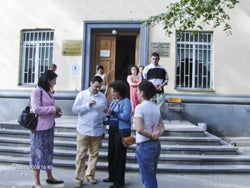 As Nina recalls the crisis, her ten-year-old son, Alexander (not their real names), sits beside her looking ashen as he stares blankly at the ground. His schooling will be delayed and he is unsure what will happen next, as his home is no longer standing. 
Though armed rebels patrol the area, there are few locks on the doors of the temporary shelters in the former Soviet offices of the Southern Caucusus Forces where over 1,500 internally displaced people have taken refuge. Nina and Alexander have taken refuge in a nine-story, sparsely furnished building with one functioning bathroom and working electricity on only three floors.
Sleeping with rats
In another room, Samira and her eldest daughter have to sleep sitting up on two wooden school chairs they were able to find. The family of four takes turn rotating on the mattress, but sleeping on the chairs has its benefit, as the building is infested with rats. Samira (not her real name) and her family are from Tordiza village, which so far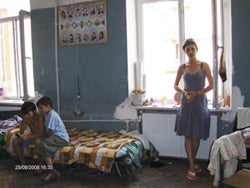 has experienced the worst of the bombings. Prior to the crisis they lived in a farmhouse, tended orchards and milked cows for fresh milk and home-made cheese.
An estimated two-thirds of the 120,000 people displaced by the conflict will return home once tensions die down. But some who went back to their homes in Gori recently have already returned to Tbilisi, demoralized and devastated. Villagers from north of Gori and from South Ossetia can't even imagine returning any time soon, particularly where there are cluster munitions, unexploded ordinance, and landmines in their villages and homes.
Hopeless and traumatized
When IDPs flooded into the capital and other cities, staff working at the United Nations Population Fund (UNFPA) in Georgia were taken aback. At the start of the year, dealing with emergency reproductive health kits, personal hygiene packages and political violence seemed so far from reality they knew. Besides the professional commitments that resulted in long workdays and many sleepless nights, many of UNFPA's Tbilisi staff are personally involved, as they have family seeking refuge from the war.
Over the past seven years, the UNFPA-Georgia office has slowly and methodically trained, equipped and supported the deployment of four mobile reproductive health teams to provide services to communities without access to regular healthcare and hospitals. The mobile team that has been providing routine reproductive health services to Gori is now caring for displaced patients within Tbilisi because of the instability.
Better data and more funding needed
At this point, little is known or being openly discussed regarding gender-based violence suffered by women and girls as troops stormed their villages. Yet, some isolated incidents are being shared, and one is of a 19-year-old girl who was abducted on the road to Tibilisi, and taken to Tkshinvali until she was released last week.
"In order to effectively assist these people, we need better statistics on situations regarding gender-based violence, and reproductive health, such as the number of pregnant women affected by the conflict," said Tamar Khomasuridze, the head of UNFPA's in Georgia. Statistics are available from the centres visited by UNFPA's mobile service units in Tibilisi, Batumi, Rutavi and Kutaisi. But joint, collaborative efforts with the National Centre for Disease Control are required to consolidate this data, a challenging task in an emergency situation.
Despite all efforts on the ground, only modest funding has been provided for UNFPA to respond to the crisis, and Ms. Khomasuridze stresses there is need for more. On 18 August, UNFPA, in collaboration with 25 other UN agencies and NGOs, launched a Flash Appeal requesting $59.7 million to assist 130,000 internally displaced people for an initial planning period of six months.
UNFPA is requesting $608,500 of these funds for maternal health and support for special needs of women and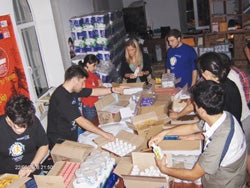 youth affected by the crisis. These funds will support capacity building of local health facilities to restore reproductive health services, provide emergency reproductive health kits, mobile teams' outreach services and train medical staff on the emergency health standards. If UNFPA's portion of the appeal is funded, post-rape treatment, including post-exposure prophylaxis to prevent the transmission of HIV, can be provided for survivors.
Enlisting young people in the relief effort
Already, UNFPA has provided support for the health and dignity of displaced populations through the provision of
basic personnel hygiene kits for families. UNFPA has mobilized volunteer peer educators from the Georgian Medical Students Association to stuff plastic bags with multivitamins, soap, shampoo, towels, toothbrushes and paste, underwear, sanitary napkins and shaving kits. These are the items that some of the displaced people identified as priority needs in a quick assessment.
Mary Rogava, the president of student association, and other students, all peer educators, have gathered to assemble the kits in the headquarters of the Reproductive Health Initiative for Youth in Southern Caucasus, which has transformed itself into a humanitarian relief effort in response to the crisis. The kits are then sent to families, like Nina and her son Alexander, who will help distribute them to families in temporary shelters. The kits are referred to as 'dignity kits' because they allow women to attend to their families during their monthly menstruation without worry and enable men to seek work or assistance with a clean shave.
When Nina and Alexander receive the dignity kits, they spring into action. First, Nina reviews the names on a list of 65 women and their families who are living in two temporary shelters. Alexander stands guard, watching as each family receives the kits with the twinkle in his eye he had before the crisis began.
— reported by Maha Muna from Tbilisi and Shannon Egan from New York