UNITED NATIONS, New York – The 2008 Report on the Global AIDS Epidemic has more positive news than any prior reports, Dr. Peter Piot, Executive Director of the Joint UN Programme on HIV/AIDS told a press conference today.
"But it is not enough," he added.
"Gains in saving lives by preventing new infections and providing treatment to people living with HIV must be sustained over the long term," according to Piot. "Short-term gains should serve as a platform for reinvigorating combination HIV prevention and treatment efforts and should not spur complacency."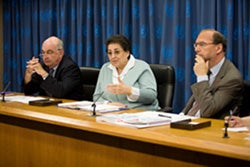 Although the number of new HIV infections has fallen in several countries, according to the, report, the AIDS epidemic is not over in any part of the world, and HIV infections are increasing in many places.
Along with updated epidemiological data and a presentation of challenges ahead, the report outlines the significant gains made in prevention, treatment and care, showing that the combined will and efforts of governments, donors, civil society and affected communities can make a difference.
Since 2005, prevention efforts aimed at vulnerable groups have increased substantially, Piot said. Moreover, many young people are delaying sex, having fewer sexual partners and using condoms, he added.
Thoraya Ahmed Obaid, Executive Director of UNFPA, the United Nations Population Fund, who also participated in the launch, discussed the implications of the report for women and youth. She stressed that though there were substantial gains in preventing new HIV infections in a number of heavily affected countries, progress remains uneven.
"Young people still remain very vulnerable," said Ms. Obaid, pointing out that only 40 per cent of young males and 38 per cent of young females aged 15-24 have complete information on how to protect themselves from HIV. To reach these young people, she added, it is important to understand the pattern of their lives.
"Discrimination remains a barrier to prevention, and this is very important," Ms. Obaid told journalists, noting that long-term success in responding to the HIV epidemic also required sustained progress in addressing human rights violations, gender inequality and stigma.
She also noted that while the percentage of HIV-positive women receiving antiretroviral drugs to prevent mother-to-child transmission of the virus has increased to 33 per cent, two out of three such women are not getting the care they need.
In order to reach the global target of universal access to prevention, treatment, care and support, budgets for HIV will have to increase and intervention will require a multi-sectoral approach, according to Ms. Obaid. Greater efforts to link HIV and sexual and reproductive health are also vital, she added, as a way to broaden access, especially for women and young people.