KABUL - The Shuhada Clinic in bombed-out western Kabul serves a population of 100,000. A vast wasteland separates the poor neighbourhood from the city proper. At night after curfew it is a dangerous no-go zone, cutting off residents' access to lifesaving medical care.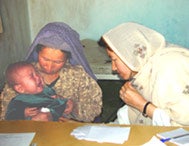 Woman in labour here give birth at home, as do nearly all Afghan women. For those who experience complications at night, there is no emergency care.
That will change in April, when the clinic will be equipped and staff trained to provide maternity care, says Dr, Alijan Mahabaty, director of the facility.
The upgrade is being supported by the United Nations Population Fund (UNFPA), in collaboration with the Ministry for Women's Affairs. Making childbirth safer is a major aim of UNFPA's assistance to Afghanistan's interim administration.
Across town, the Fund this week delivered new ambulances to two maternity hospitals, the Khair Khana 52-beds Hospital and the Rabia Balki Women's Hospital. UNFPA Chief of Operations Peter Huff-Rousselle handed the keys over to Deputy Minister of Health Mir Azam Meheraban.
"Up to now, many UN agencies and NGOs have offered to help us," Dr. Meheraban said at the handover ceremony at Rabia Balki Hospital. "But UNFPA was the fastest to respond to our requests."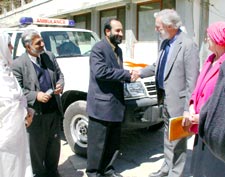 The ambulances were part of a UNFPA shipment of medical equipment and supplies for the two hospitals that arrived here earlier this month on several cargo flights from Copenhagen,The Population Fund is collaborating with WHO and UNICEF in supporting the Ministry of Public Health. It has assessed conditions at the 15 Kabul clinics that provide maternal and child health care, with a view to upgrading services, and is working with a number of partners on a broader assessment of health services.
UNFPA continues to provide several nongovernmental agencies with training and medical supplies for their clinics, including contraceptives and kits for safe home deliveries.
Working with an Italian NGO, Intersos, the Fund is supporting plans to rebuild and expand the overburdened maternity ward at the Khair Khana hospital. "This hospital serves half the population of Kabul with only eight maternity beds," Dr. Meheraban notes. Mothers and infants are sent home a few hours after delivery.
In one of those beds this week, a 22-year-old woman recovered from childbirth earlier in the day. Roya, the midwife who delivered the baby, proudly acknowledges that she is the mother's sister. She says this was her sister's second child (she also delivered the first one). The young mother plans to wait three years before having another, but wants eventually to have four children. Her mother had seven.
UNFPA has also assisted the women's ministry by supporting reconstruction of a vocational school for married women in the ministry compound. The school, which was destroyed by the Taliban, reopened this month.
And at the request of the interim administration, the Population Fund is developing plans to build the capacity of the Office of Statistics to gather and analyse data on population issues, starting a process leading up to a national census in four years or so.
Afghans are visibly appreciative of the support the interim administration is receiving from the international community. But building a health system capable of meeting the people's needs is an enormous challenge.
A visitor to Rabia Balki Hospital's maternity ward gets an indication of this size of this challenge when a group of female doctors confronts him in the corridor.
"Everyone who comes to visit asks about the patients, but no one asks about the welfare of the staff," complains Dr. Sahila Shahab. "We are not paid enough to support one person, and we have families to support."
Due to severe budget constraints, the health ministry pays all doctors employed by the hospital--even the director--just $20 a month. Doctors who work for NGOs make up to 20 times as much. For five months last fall, hospital staff received no pay at all. Those who can find them have second and third jobs.
Dr. Shahab, 30, has worked at Rabia Balki for eight years. When she is asked when she last had a raise, the doctors all laugh.
Contact Information:
William A. Ryan
Tel.: +66 2 288 2446
Email: ryanw@unfpa.org