MOZYR, Belarus – When Anya Shevko, 29, became pregnant, she had to weigh herself at a recycling centre because the local maternity clinic did not have suitable scales. Even visiting the clinic was difficult because Anya is in a wheelchair – and so is her husband, Zhenya, 36. But the couple persisted, and when their daughter was born last year, they became the first wheelchair users in Mozyr to start a family.
"Many people, even doctors, don't believe that people with disabilities can become parents. They may think we deserve pity and assistance, but they don't think we deserve this," said Zhenya, who fractured his spine in a diving accident at the age of 18. "Because of these attitudes, many people with disabilities believe they are not worthy or able to raise a child."
"I've talked to a lot of other female wheelchair users who were discouraged from continuing their pregnancies," added Anya, who fell out of a fifth-floor window when she was 14. "Some of their doctors even forbade them from giving birth, saying they would do themselves harm or have a miscarriage, and advised abortion for medical reasons. I'm lucky that my gynaecologist did not try to dissuade me when I told her I was pregnant."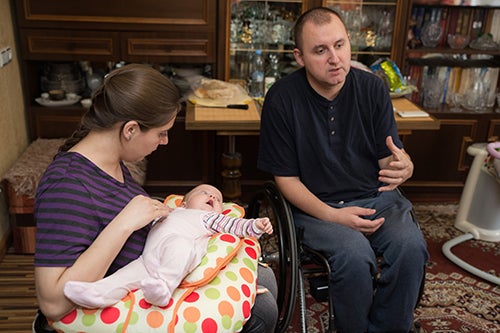 Both Ayna and her husband Zhenya are wheelchair users. Photographed by Denis Zelenko for Imena  Magazine
There are approximately half a million people with disabilities in Belarus. The country was the last in Europe to ratify the Convention on the Rights of Persons with Disabilities – it did so in 2016.
There are no state programmes to inform people living with disabilities about their reproductive health. As a result, people with disabilities often lack information about issues around sex and pregnancy, and do not realize that they also have the right to have children.
Starting a family – with dignity
After her accident, Anya did not leave home for two years. She thought that people like her never left their apartments.
But then she learned about the Republican Association of Wheelchair Users, and became an active member. There, she met Zhenya, who is now the chair of the 1,500-member group.
The couple faced new challenges when they decided to have a child.
There is little information or support available for disabled persons who want to give birth. They also worried that their future child could be taken away from them – something that nearly happened to a disabled couple in another Belarusian city.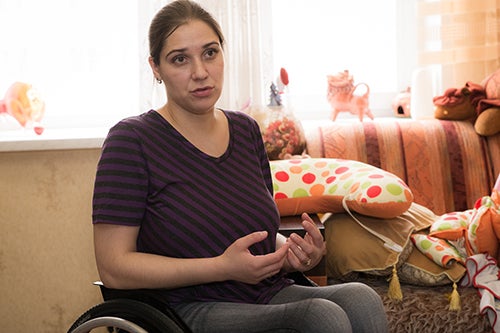 Anya struggled to access maternal health care. The local clinic and maternity hospital were not wheelchair-accessible. Photographed by Denis Zelenko for Imena  Magazine
Still, they were resolute.
"When I got pregnant, my parents were a little scared, and so were we. But we absolutely did not have any doubts. I knew I wanted a child," Anya said.
At Mozyr's sole maternity clinic, Anya successfully lobbied for the construction of a wheelchair ramp. But without an elevator, services like the ultrasound machine were inaccessible. "It was absolutely impossible to go through a full medical examination," she said.
Later she travelled to the maternity hospital for an ultrasound. A doctor had to carry her to the second-floor examination room. It was not the kind of place she wanted to deliver.
"The maternity hospital in Mozyr said they would carry me to the toilet, to the shower, but I didn't want to be carried," Anya explained. "I wanted to do things on my own."
She and Zhenya decided to travel to a hospital in Minsk that has doctors experienced in delivering babies for women with spinal-cord injuries.
On 2 November 2016, Anya gave birth to a healthy baby girl, Nastya.
Breaking taboos
The couple wants to make sure other people with disabilities know their options.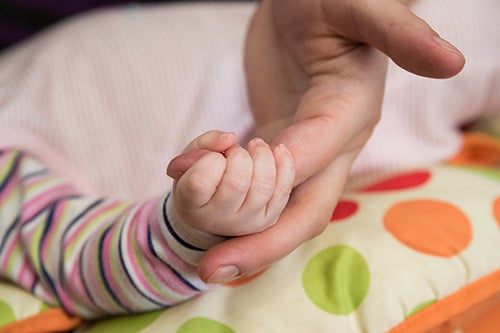 The family is thriving. Anya and Zhenya are now hoping to have a second child. Photographed by Denis Zelenko for Imena  Magazine
They help organize summer camps through the Republican Association of Wheelchair Users, with support from the Ministry of Sports and Tourism. There, participants learn to operate wheelchairs and live more independently. They also learn about their rights.
"Sex and childbirth are among the very important topics," Anya said. "There is a special lecture and presentation about this to try and break the taboo around this topic, to explain the options for conceiving and convey positive examples."
"Our organization is the only one in Belarus that actually provides such information for wheelchair users," added Zhenya.
Today, the family is thriving. And they are already thinking about giving Nastya a sibling.
"We are planning to have a second child. The doctors say there are no contraindications, and after two years we can easily try again," Anya said with a smile.
"When we talk about people with disabilities, we often ignore the problems associated with sexual life," said UNFPA Country Director Caspar Peek. "It is high time to think about this issue in Belarus and take action to improve the situation."
UNFPA is working to improve access to sexual and reproductive health information and services for people living with disabilities. This includes gathering data on the accessibility and quality of health services, strengthening the standards for care and services, and training health and social workers.
A version of this story was published in Imena Magazine's March 2017 issue.