TEGUCIGALPA, Honduras — With bloodshot, swollen eyes and aching arms and ribs, Alicia came to the police station on a Sunday morning to denounce her boyfriend. A few nights before, he had come home to their apartment drunk, suspicious that she was being unfaithful. Already furious when he arrived, he started making accusations. The argument quickly turned violent. A martial arts practitioner, he punched her in the face with his fists, then broke off a broomstick and started hitting her with the handle.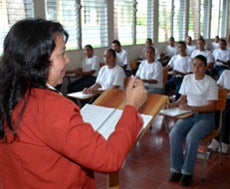 "It brings your self-esteem way down. I knew I had to come to the police because that's how women get really hurt, if they don't talk," said Alicia.
Until 1998, when a law against domestic violence was established, this episode would have had no legal consequences for Alicia's boyfriend. Victims of domestic violence in Honduras, as in many other countries, were told that they should resolve the dispute on their own, that their plight was a matter between husband and wife, boyfriend and girlfriend, and should be confined to the privacy of their homes. Even after the law was established, victims of domestic violence often found little support from police.
But that is now changing. Since 2002, UNFPA, the United Nations Population Fund, has helped train police officers to assist victims of domestic violence by taking their cases seriously; informing them of their rights and sometimes even providing victim protection. The organization has also assisted victims in taking action against the offender. Its reach encompasses similar projects in 13 countries throughout Latin America and the Caribbean, and focuses on police forces and the military in order to raise awareness of issues relating to gender-based violence.
Police education in Honduras ranges from a base-level, six-month-long training course offered by the Centre for Police Instruction (CIP) in the city of La Paz, to a four-year degree programme at the Superior Institute of Police Education (SIPE) in the country's capital, Tegucigalpa. The $250,000 training programme is carried out in cooperation with the National Women's Institute, the Ministry of Security and the General Directorate for Police Education. UNFPA provides financing for the project, as well as technical assistance in designing courses.
The programme teaches students about legal, social and medical aspects of domestic violence, including gender equality, human rights, reproductive health and sexually transmitted infections—topics that were considered taboo before the course started, according to CIP Director, Abraham Figueroa Tercero. It targets both new police recruits and those who have served for more than five years. So far, nearly 4,000 police officers have been trained.
Marcela del Mar Suazo, executive president of the Women's Institute, expects that the entire Honduran police force of about 10,000 officers will have undergone training within the next ten years. All new graduates have completed the programme.
"There was some resistance from the bosses in the police education institutions in the beginning, but we managed to convince them that this is an important issue. Now they are our strongest allies," says Oscar Reyes, coordinator of the domestic violence training programme.
Reyes and a team of trainers have traveled to remote corners of the country to conduct workshops for local police officers. They travel by car, air, even river canoe—and even to unsafe areas where an armed escort is necessary. Reyes stresses that the contribution of trainers has been crucial to the success of the project. "They worked long hours, including weekends, without overtime pay to jumpstart the project," he says. Domestic violence prevention is now integrated into the curriculum of police training institutions, and indeed, police are now educating their own trainers.
"The education project has helped us spread knowledge about the domestic violence law", asserts General Mirna Suazo Rivera, General Supervisor of the 'preventive police', the largest segment of the Honduran police force. "Before, police officers used to feel solidarity with the abuser. I have been in the police force for 27 years, and the attitude changes I have seen in the last three years are incredible."
The number of reported domestic violence cases has increased during the past three years. Programmers interpret this as a sign that the public has become increasingly aware of the new law and are more confident that police will intervene. According to recent statistics, fully 65 percent of calls to police are associated with domestic violence. Incidents appear to peak during televised soccer matches.
Doris Cortez, an instructor at SIPE, maintains that, though changes are apparent, progress is slow owing primarily to the difficulty of coordinating the various judicial levels such as the police and prosecutor's office. "It is important to act immediately, because cases of domestic violence can escalate quickly," she points out.
A third-year student at the Institute, Jessica Colindres Pinoth, says that sentiment still prevails among male students that classes focusing on gender equality and domestic violence are "robbing territory" from males. For her own part, she says, classes "help female students wake up, and not remain silent." The Honduran police force is heavily male-dominated, with just over 9 per cent females.
Gladys Lanza, national coordinator of a women's NGO in Honduras, praises efforts to teach police about domestic violence and gender equality, but cautions that more work is necessary to reach all parts of the police force. "Without awareness, knowledge and action, the law is just a wet piece of paper."
The success of the police training programme has helped attract funds from other donors, including Canada, Germany, Sweden, Save the Children and the UN Development Programme. As a result, the National Women's Institute and the police have now established a 24-hour information and emergency phone service for victims of violence. Since last April, women can dial 114 for options available to victims of violence, to report a crime, or to ask for immediate help. Since it opened, the hotline has received approximately 1,000 calls. Most callers request information, while an additional 105 calls led to the dispatch of police officers. Forty led to the apprehension of abuse suspects.
This recent initiative comes in the wake of Honduran President Ricardo Maduro's campaign to improve security in this small Central American country. Maduro, whose own son was kidnapped and killed in 1997, is committed to improving awareness, coordination and enforcement of the 1998 law against domestic violence. "We wanted to show with action, rather than words, that we were serious about improving security," maintains Security Minister Oscar Alvarez. Despite this, some observers note that the security situation in Honduras remains dire. The move to raise awareness of the devastation caused by domestic violence is encouraging.
So successful is the police education programme that the Honduran government awarded its highest distinction, the Dionisio de Herrera Order (named after the country's first President) to UNFPA—not once, but twice. It was first presented to the UNFPA Country Representative, Sietske Steneker, then to the Fund's Executive Director, Thoraya Obaid during an official visit last May.
Globally, one in three women report being physically abused by a present or former partner—in some countries, as many as half of all women suffer from physical abuse. It is estimated that worldwide, domestic violence results in the loss of a total of 9 million years of productive female life—more than that caused by all forms of cancer. The toll on women's health surpasses that of traffic accidents and malaria combined.
Contact Information:
Trygve Olfarnes
Tel.: +52 55 5250-7977
Email: olfarnes@unfpa.org