As UNFPA's Executive Board was setting the course for 2010 and beyond, it took time to review the many accomplishments of 2009. The 2009 Annual Report year was presented to the Fund's executive board, along with a slide show encapsulating some of the highlights of 2009.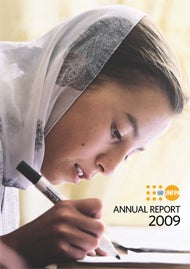 The Annual Report details some of the expert meetings and consultations that constituted ICPD/15 and provides an overview of achievements last year in its three core areas: reproductive health and rights, population and development, and culture, gender and human rights. Information about specific activities, programmes and results are complemented with boxes featuring on-the-ground reports about the issues UNFPA's deals with.
Throughout that year the Fund also marked the 15th anniversary of the International Conference on Population and Development, the landmark event that continues to guide UNFPA and helped shape the Millennium Development Goals.
In addition, the report provides an overview of UNFPA resources and expenditures. In 2009, the Fund supported the development priorities of 155 countries, territories and areas. Income totaled $783.1 million, including $469.4 million in voluntary contributions from governments and private donors.