BAMAKO, Mali – Four days ago, Mali became the third West African country declared to be Ebola-free after the deadly outbreak penetrated its borders late last year. Health workers are now standing watch at the country's major international airport in Bamako, guarding against the disease's return.
The outbreak has so far claimed over 8,600 lives in West Africa, most of them in Guinea, Liberia and Sierra Leone. In November and December, Mali saw eight cases of Ebola, resulting in six deaths. All but one of the cases was in Bamako, the country's capital and largest city.
The last confirmed case was successfully treated and discharged on 11 December.
Since then, some 20 Ebola health workers, hired by UNFPA, have monitored the temperature of all people passing through the Bamako-Senou International Airport. The measure is designed to prevent a resurgence of the disease while also ensuring that Mali does not become isolated in the aftermath of the outbreak.
Staying vigilant
The health workers – who are nurses, midwives and health technicians – are using touchless thermometers to screen the body temperature of travelers at the airport. All departing travelers have their temperature recorded on their boarding pass, which is stamped and sealed until they board their flight. Arriving passengers are also subject to these temperature screens.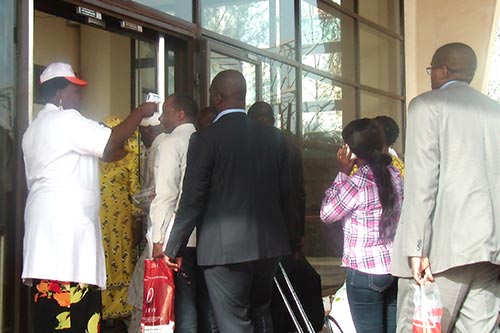 Jeanne Dacko screens the temperature of arriving travelers. © UNFPA Mali
An average of 620 people passed through the Bamako-Senou airport each day in December, and according to official statistics, the airport served more than 602,000 travelers in 2014. To cover all travelers, teams of health workers are working in two shifts, one 10 hours long, the other 14 hours long.
From 15 December to 6 January, no cases of Ebola were found. Two people with fever were identified and tested – one had a cold, the other malaria.
Far-reaching response
Some travelers are reluctant to undergo the checks.
"We take them aside and talk to them. Following this conversation, they are more cooperative," said Fanta Coulibaly, who manages the health workers' daytime shift.
UNFPA has also printed and distributed awareness-raising materials about Ebola, which have been posted and distributed throughout Bamako.
In the three hardest-hit countries, UNFPA has trained over 8,000 contact tracers and is supporting ongoing Ebola surveillance and monitoring. UNFPA is also working to restore access to sexual and reproductive health in Ebola-affected countries, where many health systems have been overwhelmed by the outbreak.
–Moussa Baba Coulibaly