GALLE, Sri Lanka—Dr. Samarasinghe was in the middle of a Caesarean section when the first of three massive waves slammed into the Maternity Hospital in the south coast city of Galle. The electricity was knocked out immediately along with the emergency generator. "It sounded like a freight train coming straight through the ground floor," he recalls.
Frantic nurses and other medical staff began evacuating over 350 terrified women and newborn babies from the sprawling three-storey facility. The second and largest wave reached nearly to the second floor, where Dr. Samarasinghe was completing the operation by flashlight. He calmly finished, then helped the woman and her baby to safety through a back door.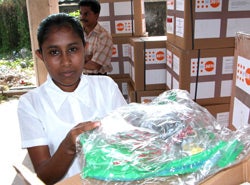 Walking through the shattered shell of the largest maternity hospital in the city, it is hard to image how the staff managed to save 379 patients and their babies by getting them to higher ground. Remarkably, only one infant was lost in the chaos.
In the aftermath of the 26 December tsunami, mangled beds are wedged against pockmarked walls; windows are blown out as if from an explosion; and equipment, such as blood transfusion units and X-ray machines, lie in twisted heaps. A washing-up sink, torn completely from the wall, ended up outside the main entrance in a pile of debris.
One of the immediate tasks confronting Sri Lanka's health system is coping with the reproductive health needs of pregnant woman, mothers with newborn infants, and adolescent girls. Some 15,000 pregnant women in the tsunami-affected areas will need access to reproductive health services and emergency supplies in the coming weeks.
With many of Galle's health facilities damaged or destroyed, the district's teaching hospital set up a special maternity ward. However, it can accommodate no more than 47 patients. It is now coping with over 300 women at any given time. The halls and resting rooms are so overcrowded that women in labour are stretched out on floor mats side by side while waiting to give birth. Doctors and nurses have been working around the clock since the disaster. Over 600 women have given birth in this facility since the tsunami struck. Not one baby has died.
"We are coping as best we can," says Dr. Priyanee Senadheera, director of the destroyed Maternity Hospital. "But we are rapidly running out of essential supplies. UNFPA's emergency assistance has arrived just in time. Frankly, I don't know how we would manage in the coming weeks without this assistance."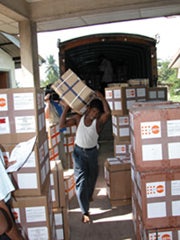 The first shipments of reproductive health supplies, including emergency obstetric kits and safe birthing supplies, have already reached Galle and other hard-hit coastal regions. The first of several convoys unloaded seven tons of emergency supplies at Galle's teaching hospital. From here, the supplies are distributed to hospitals and clinics throughout the district.
So far, UNFPA has mobilized $4.4 million in emergency assistance to Sri Lanka, but there remains a significant shortfall in resources. "Our emergency assistance is aimed at meeting the reproductive health needs of women, safeguarding their maternal health, as well as providing psycho-social counselling for survivors and addressing gender violence in temporary shelters," points out Lubna Baqi, UNFPA Representative in Sri Lanka.
Rebuilding the country's health infrastructure will take time and cost around one billion rupees ($10 million), according to the Health Ministry. Looking after the needs of women and girls is a very important part of the relief operations that the Ministry is coordinating. "One of our main priorities in this crisis is meeting the reproductive health needs of women and adolescent girls," insists Nimal Siripala de Silva, Sri Lanka's Minister of Health. "UNFPA is playing a critical role in this operation. They have helped us a great deal in the aftermath of this disaster."
Back at the Galle teaching hospital, perched on a wooded hill overlooking the city, Dr. Samarasinghe is performing another Caesarean section. He is proud that his staff has not lost one patient since the tsunami. "But we would not be able to maintain sanitary conditions nor provide the medicines and services needed were it not for UNFPA and the other aid agencies that have helped us out in our time of greatest need," he concludes.
***
UNFPA is assisting governments and local populations in all the countries affected by the devastating earthquake and tsunami. To support the Fund's emergency response to the disaster or learn more, please visit www.unfpa.org.
For more information, please contact:
Indonesia: Trygve Olfarnes, olfarnes@unfpa.org, tel. +62 21 314 1308, ext. 318, mobile +62 8 151 351 7440.
Sri Lanka: Don Hinrichsen, hinrichsen@unfpa.org, mobile +1 917 915 5675.
Bangkok: William A. Ryan, ryanw@unfpa.org, tel. +66 2 288 2446, mobile +66(0)9 897 6984.
New York: David del Vecchio, delvecchio@unfpa.org, tel. +1 212 297 4975, mobile +1 917 518 7743 or Omar Gharzeddine, gharzeddine@unfpa.org, tel. +1 212 297 5028.