LAMWO, Uganda – Nine mothers stood in a single-file line, cuddling their newborn babies, in a refugee reception centre in northern Uganda. Visibly exhausted and anxious, each had a story to tell about being heavily pregnant, and nearing their expected delivery dates, when they were forced to flee the armed conflict raging in Pajok, a town in South Sudan.
Of the nine women – all displaced earlier this month – two had delivered en route to safety, and one had given birth in a tent at the reception centre. The others delivered at the nearby Ngoromoro Health Centre II, a UNFPA-supported clinic operated by the International Rescue Committee.
"We walked with difficulty, but we could not stay behind because we feared we would be killed by the guns," said 26-year-old Rose Akongo, who trekked for two days through the bush with her 3-year-old daughter, Brenda, on her back.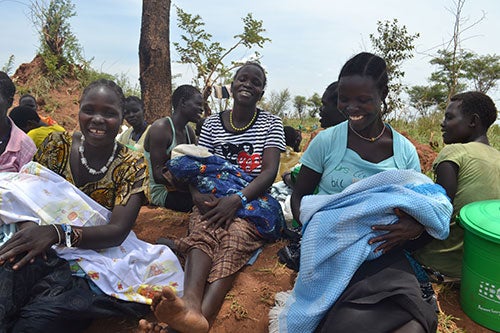 Sarah Layet, Anyiri Rose and Auma Vicky rest with their newborns at the Ngoromoro border and reception centre in Lamwo. © UNFPA Uganda/Evelyn Matsamura Kiapi
She was in labour by the time she arrived at the Ngoromoro border post, in Uganda. Health workers immediately whisked her to the nearby Ngoromoro Health Centre II to deliver.
Giving birth along the way
Thirty-five-year-old Rose Anyiri was not as fortunate. She had been planning to deliver at a health centre in Pajok when hostilities broke out.
"My labour started as we were running away, so I delivered my baby boy along the way in the bush by the mountainside, with the help of my aunt," she told UNFPA through an interpreter. 
Vicky Auma, 26, also delivered a baby boy after escaping the violence. She spent three days and nights trekking through the wilderness before reaching the reception centre. She was already in labour when she arrived, and gave birth there with the help of her mother.
Thousands forced to flee
The deadly clashes in Pajok, a border town of about 50,000 people, forced some 7,000 people to flee to Uganda in the span of a week, according to the United Nations office that coordinates emergency responses.
It was part of a wave of renewed fighting that displaced thousands. Uganda now hosts the largest number of refugees in Africa, according to recent UN reports.
"During their visit, human rights officers saw clear evidence of killings and looting," the UN High Commissioner for Human Rights reported.
As in many humanitarian emergencies, pregnant women and new mothers faced a loss of health-care access, threatening their health and lives.
UNFPA is working with partners to provide a range of life-saving reproductive health services, such as supporting the placement of midwives in health centres to provide antenatal care, safe delivery services and postpartum care. UNFPA is also providing family planning services, and is supplying reproductive health kits and delivery kits, which contain life-saving medicines and supplies.
UNFPA also creates youth clubs that spread awareness of human rights, health, and how to avoid unintended pregnancy and HIV. And safe spaces have been created for women and girls, where they can receive protection, care, and information on reproductive health and human rights.
All of the mothers and babies at the Lamwo refugee reception centre were examined to ensure that they had no pregnancy-related complications or concerns related to exhaustion. Those requiring further attention were referred to Padibe Health Centre IV.
– Evelyn Matsamura Kiapi