HARARE, Zimbabwe — The child Elizabeth holds in her thin arms is wizened and fretful. His minute hands, chubby and expressive in most children, are rash-covered claws that clutch spasmodically at a white blanket damp with the heat of his feverish body. He can neither walk, stand up or sit upright. What he can do, however, is cry – endlessly and weakly – with an eardrum-splitting, nails-on-the-chalkboard monotony that causes his 41-year-old mother to wince with exhaustion.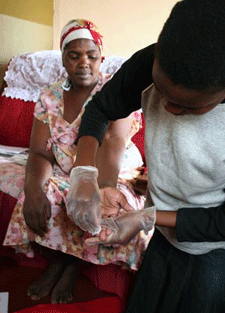 Although not immediately obvious, two-year-old Justin is the victim of gender-based violence. One night, just over three years ago, his father returned home, attacked, sexually assaulted and infected Elizabeth with HIV, the virus that causes AIDS. Less than a year later, Justin was born. Like most HIV-positive women, she learned of her own infection through the illness of her child. Elizabeth no longer has the money to pay for either his antiretroviral therapy or for the other medicines that might ease his torment. His fate, it appears, is all but sealed.
Elizabeth bends her head and blocks sight of the two-year-old – as if to protect him from the gaze of strangers. His small face bears the haunted look of a famine victim and his dark eyes are liquid with the tears that his mother says never stop. "He is always like this," she explains wearily. "If I put him down he just cries and cries. At night, the only way I can quiet him is to put him on my back and to try to sleep with my arms folded like this," and she crosses her arms and puts her head down on the table. "But the heat makes my back itch, and I cannot sleep. It is impossible."
As well as being ill with tuberculosis, Justin has been stunted by wave after wave of opportunistic infections that his mother also shares. Unable to tolerate cheaper antiretroviral therapy, she is too poor to pay for the prescription creams that would soothe the ugly brown rash that stands out on her neck, arms, legs and torso. Without them she cannot continue treatment. Without treatment, she will die. It is a vicious circle – and one that Elizabeth is likely to pay for with her life.
It is a stormy Monday afternoon and Elizabeth is cradling her son in the conference room of the Musasa Project, a Zimbabwe-based NGO that advocates against the impunity, poverty and discriminatory practices that make it so difficult for women such as Elizabeth to escape domestic violence. Elizabeth is seeking advice on how to legally force her husband to pay for his son's basic necessities – clothing, medicines and physiotherapy. She also wants to spend time in the one place where she can speak freely of the disease that is slowly devouring both her body and her spirit.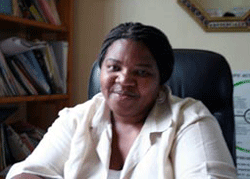 In Zimbabwe, attitudes that encourage multiple sexual partners and violence in men continues to drive high infection rates among married monogamous women. Although increased condom use and fewer partners appear to behind a 4 per cent decline in Zimbabwe's HIV prevalence rates, police and NGOs are reporting an upsurge in gender-based violence, fueled they say, by food insecurity and economic hardship. This could slow, or even stall, HIV prevention efforts.
The Musasa Project is only one of a handful of locally run organizations that are on the frontline of both HIV and gender-based violence. Founded in 1988 by a psychologist and a lawyer, the organization is supported by UNFPA, United Nations Population Fund, and a number of other international donors. It lobbies for policy change and has been instrumental in encouraging the government to draft legislation that would overturn discriminatory laws and discourage traditional practices that render so many Zimbabwean women vulnerable to economic hardship, violence and HIV. Last year, it presented the Minister of Justice with a petition of more than one million names – almost one tenth of the county's entire population – calling for legislation making domestic abuse punishable by law.
Perhaps most significantly of all, Musasa has also assisted UNFPA in successfully lobbying the government to include a questionnaire on gender-based violence as part of the Demographic and Health Survey now being undertaken throughout the country. Spearheaded and financed by UNFPA, the survey will provide policy makers and donors with the data necessary to draft legislation and tailor programming to more effectively address the needs of Zimbabwe's burgeoning, but increasingly beleaguered, populace. The last survey of gender-based violence, undertaken by Musasa in 1996, revealed that one in three of the 759 women interviewed were living in an abusive relationship. In Midlands Province, that figure was 42 per cent.
In an inviting office suffused with the dull light that signals an impending downpour, Musasa Director, Sheila Mahere, radiates an expansive sense of solidity, warmth and power. The obstacles that face Zimbabwe's women are huge, she maintains, but change is possible – despite traditional attitudes that contribute to violence against women and girls. Domestic violence, however, is not the only problem she deals with. Sexual assault, incest and 'baby rape' are also on the rise.
"We must say that it is likely that the harsh economic environment we are working under does give rise to additional stress on the family," says Mahere. "Husbands are unemployed and spending the little bit of money that the woman has earned on drink or on his girlfriend. The mother needs to use the money for health care or school fees and gets very upset. The husband will then vent his frustration on his wife because she is weaker. These households become unbearable, and it is the woman who suffers most."
Furthermore, although Zimbabwean women constitute the majority of agricultural labourers, they traditionally have little say in how their earnings are spent. This has led to a spate of suicides, particularly in the cotton-growing regions of the country – the unhappy outcome of despairing mothers seeing the fruits of their labour squandered on alcohol, girlfriends or sex workers.
Underpinning this scenario is the practice of lobola, or bride price, that effectively relegates women and girls to the status of chattel, says Regis Mututu, Executive Director of Padare, a Harare-based NGO whose primary mandate is to alter male behaviour. "A lot of men feel that once they pay the bride price, they have 100 per cent control over their wives. This means controlling the woman's sexuality, earnings and reproductive health. Until fairly recently, women were considered minors. But despite the fact that this has changed, the same adversarial attitudes towards women persist. We believe it is critical to focus HIV-prevention efforts on men because they are the primary decision-makers, and it is their behaviour that is fuelling the epidemic."
Further complicating the picture is the widespread practice of maintaining mistresses and entire households apart from the main marriage. In these 'small house' ('big house' refers to the primary marriage) unions, condoms are rarely used
Studio, who is 35, knows this only too well. She lost her front tooth and much, much more when her husband came home one night after his mistress kicked him out of her house. Spoiling for a fight, he beat Studio up and raped her in front of their eldest son. Her first HIV test, taken soon after the attack, was negative. Four months later it came up positive – confirming both her suspicions and epidemiological evidence that rape increases the likelihood of HIV infection. Today she is a widow and barely supporting her four children as a door-to-door laundress. She is hoping to earn enough money to pay for a passport so she can return to her previous business as a cross-border trader in South Africa. "Here at Musasa they impress upon us the importance of working and of being able to support ourselves," she says. "They teach us that even something is better than nothing and that working will raise our self-esteem."
For Elizabeth however, the future is looking increasingly bleak. Because she is now so obviously ill, friends and family have refused to take her in for fear of acquiring HIV. Caring for her ailing child is in itself a full-time job, and she barely has the strength to do that. The good news is that her husband, who still denies his own HIV status, no longer forces himself on her. The bad news is that he takes every opportunity to mock and humiliate her – even going so far as to insist on separate eating utensils, towels and blankets.
"All I can do is trust in God," she says. "That is all that we have left."
Contact Information:
Patricia Leidl, tel. +212-297-5088, leidl@unfpa.org