UNITED NATIONS, New York – The United Nations honoured Dr. Sir Prince Ramsey, an Antiguan family doctor who played a pivotal role in advocating for HIV patients at the height of the AIDS crisis in the 1980s, and who pioneered HIV services for pregnant women in the region. In recognition of these and other achievements, Dr. Ramsey received the 2018 UN Population Award at a ceremony held today at UN Headquarters in New York. 
Two institutions – the Guttmacher Institute and Save a Child's Heart – were also awarded the UN Population Award, honouring their outstanding contributions to public health.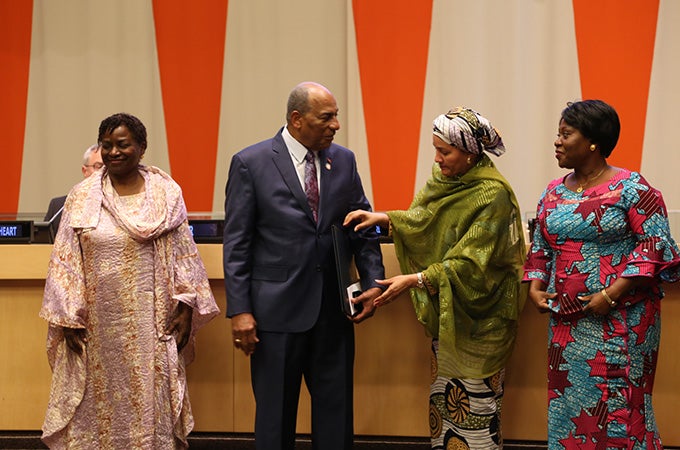 Ending HIV stigma
"Dr. Ramsey was one of the first to recognize the devastating effects of HIV and AIDS in the country. In response, he emerged as a prominent expert and champion in combatting the epidemic, not only in Antigua and Barbuda, but throughout the Caribbean," said United Nations Deputy Secretary-General Amina J. Mohammed at today's ceremony.
Dr. Ramsey "acquired antiretroviral medications before they were widely available, sometimes at his own cost," said UNFPA's Executive Director Dr. Natalia Kanem, presenting the award. Dr. Ramsey also worked to destigmatize HIV and AIDS, and he promoted services to prevent mother-to-child transmission of the virus. 
"You will often see the statement that Caribbean is the second most affected region in the world in terms of HIV prevalence rate, second only to sub-Saharan Africa," said Dr. Ramsey. The region's prevalence is about 1.3 per cent, according to UNAIDS.
He noted that he was often asked "what caused me to immerse myself to a disease that caused such fear and revulsion." This is precisely what inspired him. "We in the Caribbean have been working hard to eliminate this stigma," he said.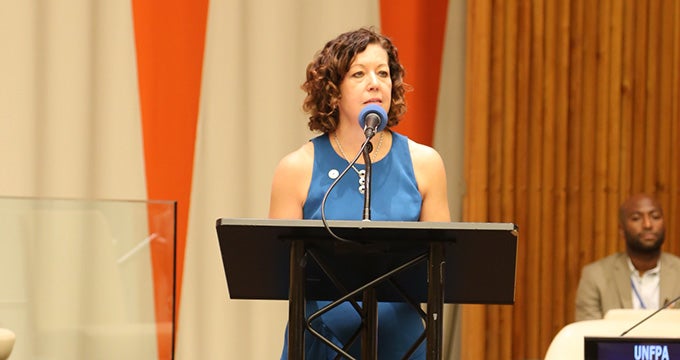 A champion for reproductive health and rights
Ann Starrs, President of the Guttmacher Institute, received the award on behalf of her organization, which was honoured for providing critical research and policy information to advance sexual and reproductive health and rights in the United States and around the world.  
The Institute is "a credible source for high-quality scientific research on sexual and reproductive health" and "a centre of excellence in translating evidence into policy change in support of reproductive rights," said Ms. Mohammed. 
"We are guided by the conviction that evidence is the foundation of good policy, and by an abiding concern for the health and rights of marginalized and vulnerable populations," Ms. Starrs said in her remarks. 
"Since our Adding It Up series, coproduced by the Guttmacher Institute and UNFPA, was launched in 2004, it has brought global attention to the scope and impact of the unmet need for family planning," she noted. Most recently, the Adding It Up estimates show that 214 million women around the world have an unmet need for family planning. 
Ms. Starrs also called for renewed efforts to realize reproductive rights for all people. 
"Gains have been slow and inequitable; political commitment and funding have been inadequate; and crucial elements of sexual and reproductive health and rights have been ignored," she said.
Even so, she noted that significant progress has been made over the past 50 years. "There is also ground for hope and optimism," she said.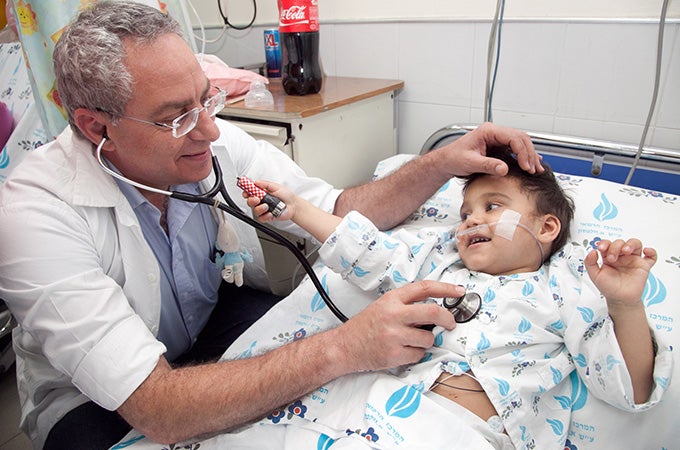 Mending hearts, building bridges
Save a Child's Heart provides life-saving cardiac surgery for children from developing countries, as well as training for medical personnel from around the world. The Israel-based organization has saved the lives of nearly 5,000 children. 
"Most people don't know that about one out of every 100 children are born with congenital heart disease. And though most of these children have correctable conditions, the majority of them will die before the age of 20 as a result of the lack of facilities and doctors capable of performing the life-saving heart surgeries or catheterization they so desperately need," said Dr. Lior Sasson, lead surgeon for Save a Child's Heart, said as he accepted the award. 
Dr. Sasson noted that every child saved has the potential to change the world – and indeed, some have gone on to start schools and support orphans. "The mandate of the United Nations Population Fund is, in part, to deliver a world in which every young person's potential is fulfilled… the goal of Save a Child's Heart, as we see it, is to contribute our small part to achieving this mandate."
He added, "We hope that by mending hearts we are building bridges of peace, person to person, nation to nation, and saving the world one heart at a time."