FREETOWN, Sierra Leone — Bintu Mansary's father was shot and killed as she and her family tried to escape the rebel attack on her village during the brutal Sierra Leonean civil war.
"I had to keep running," says Bintu, who was overcome by emotion as she recounted the nightmare she lived through a decade ago. "My father, even after he was shot, he yelled, 'Bintu, run, run.' But I was captured by rebels. I was so small. I didn't even have breasts."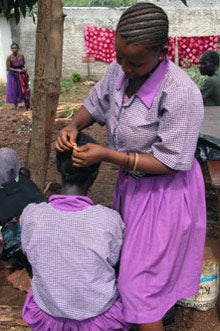 Bintu, now 20–years old, and her seven-year-old sister were taken into the bush by the soldiers. When one of the rebels tried to rape her sister, "She scratched the man's wrist, and they cut her hand off. I was screaming when I saw it happen, so they gagged me to make me quiet," recounts Bintu, wringing her hands nervously, her eyes downcast. "Many of them raped her. She was so small that she died."
Over a four-year period, Bintu's arms and legs were routinely tied to stakes as she was repeatedly violated by as many as six captors per day. When they found out that she had not undergone female genital mutilation/cutting, the rebels used a gun bayonet to cut her, cleaning the wound with gunpowder. She was not even allowed to heal before the sexual assaults began again.
When she finally escaped, Bintu ended up on the streets of Freetown. She bartered the only thing she had, sex, to survive for one year before she learned about the Women in Crisis Movement (WICM), a UNFPA-supported NGO devoted to empowering war-affected adolescents and young girls.
"I am so happy to be here," says Bintu. "I now have food and medical care and a chance for a better future."
After more than a decade of violent civil war, Sierra Leone is trying to recover. The war, which erupted in 1991 and formally ended in 2002, left tens of thousands dead and an estimated 2 million more displaced. Sexual and gender-based violence occurred at every stage of the conflict, which was marked by mass amputations and the wholesale assault on the nation's female population. More than a quarter of a million women and girls were raped. Their bodies were battlegrounds, and rape was used as a weapon of war to humiliate, terrorize and destroy. Although rebels attacked both young and old, they tended to target very young girls and adolescents whom they believed were virgins. Many did not survive.
"Those who mostly bore the greatest brunt were the girls and young women. They were abducted, sexually abused, exploited and used as sex slaves and 'bush wives' by the warring factions," says Juliana Konteh, WICM Director. "The violence induced by such horrendous acts damaged young girls and women's health and their capacity to function in society. Many were left with little or no opportunity to develop an affordable livelihood."
"Most of themwere sexually assaulted, held captive and forcibly recruited in the fighting," says Dr. Mamadou Diallo, UNFPA Representative in Sierra Leone,
The impact of violence, especially rape, he added, was devastating to these young women. Physical consequences include injuries, unwanted pregnancies, sexual dysfunction and sexually transmitted infections including HIV. Emotional effects include post-traumatic stress disorder and depression.
Following their release, many faced further humiliation when their own communities, and even family members, rejected and drove them out. Thousands of young women and girls wound up on the street where many were forced to sell their bodies or engage in 'survival sex' — the barter of sex for basic commodities or food.
In order to provide much-needed prevention and treatment services, UNFPA works with the Government, United Nations and NGO partners to coordinate relief efforts and to provide security and community and health services. The aim is to reintegrate young girls and women who were abducted, abused and terrorized at the hands of warring factions into their communities.
To date, WICM has trained approximately 500 former conflict victims, survival sex workers and other vulnerable young women in income-generating skills, including tailoring, soap making, tie-dying and hair dressing, which Bintu is learning.
"I praise God," said Bintu about her entry into the programme. "I had been at zero, and now I have a life."
Many of the young girls and women participating in the programme had to leave behind their education. WICM provides literacy training, an essential skill in a country where only 31 per cent of adults can read and write. Upon graduation, many of the girls will receive micro-credit loans and equipment to help them establish small businesses.
Both displacement and economic privation during the war created the perfect conditions for the unchecked spread of HIV.
Before the war, the HIV-prevalence rate stood at 1 per cent. That number is now 5 per cent. Poverty, violence, sexual exploitation and large numbers of displaced people, coupled with high rates of sexually transmitted infections, have helped fuel the epidemic.
"There is very low knowledge of the risk of HIV infection and very high rates in all age groups of STIs [sexually transmitted infections]," Dr. Diallo maintains. "All of these things are like a bombshell waiting to go off."
Educating participants about HIV and STI prevention is just one aspect of a multi-pronged, country-wide strategy. WICM also focuses on men and includes treatment, voluntary counselling and testing, as well as family planning and maternal care services. It is part of a larger regional programme of Disarmament, Demobilization and Reintegration (DDR). UNFPA is using HIV prevention and the promotion of reproductive health to assist communities to reconstruct and heal.
The WICM compound is high up in the hills that surround Freetown. Visitors face an almost vertical climb over a steep, muddy track on the outskirts of the capital, bordered on all sides by dilapidated shanty dwellings. Once inside, the mood changes. Dozens of girls in bright purple uniforms cluster in groups outside or in dedicated classrooms to learn their trades. The sounds of girls giggling and gossiping can be heard throughout the compound.
"I get so much satisfaction from seeing these girls rehabilitated," Konteh says. "Any vulnerable woman is eligible."
Fatmata Bintu Bangura insists that her entry into the WICM programme helped her turn her life around and recover from her abduction by rebels as a 12-year-old schoolgirl.
"The rebels came and burned the school, capturing about 30 of us," says Fatmata, who still finds it difficult to recount the story of what happened to her ten years ago. "I was very afraid. My parents were not there."
For three months, Fatmata lived in the bush with her rebel captors who routinely gang-raped her.
"Once three men were fighting over me. Because I was crying, they took a hot iron and burned my chest," she said, pulling her blouse aside to expose the scar that serves as a constant reminder of her ordeal.
With no means of support following her rescue, Fatmata was considering becoming a commercial sex worker when she found out about WICM. Now, she, along with two of her sisters, is learning hair dressing and tailoring. All three hope to eventually start their own businesses.
"I feel good because I have a skill and can earn a living," Fatmata smiles. "At least I won't have a useless life out on the street."
Contact Information:
Angela Walker
Tel.: +(221) 5080745
Email: awalker@unfpa.org