HO, Ghana — Assistant Commissioner of Police, Beatrice Vib-Sanzire, is a woman on a mission. This modern-day crusader as head of the Domestic Violence and Victim Support Unit (DOVVSU) wants all children and women in Ghana who suffer in silence to know that they can come to the police to get the support they need to end their abuse.
"Gender-based violence is not a family, private matter, but a violation of human rights," asserts Assistant Commissioner Vib-Sanzire passionately.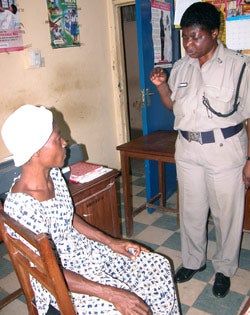 As in countries throughout Africa and around the world, the abuse of women and children continues to be a challenge for authorities in Ghana. Recognizing traditional police forces were ill equipped to deal with such cases, the Ghana Police Services established the national DOVVSU unit more than a decade ago.
A special unit for women and children
"We knew there was a need for a special unit for women and children because of the poor handling of cases at traditional police stations," she says. "We protect the rights of the vulnerable, especially women and children, against abuse and arrest and prosecute as necessary."
Under Assistant Police Commissioner Vib-Sanzire's leadership, the number of reported cases to the unit almost doubled between 2002-2006, from 7,852 to 13,589. With the success of the national programme, UNFPA, the United Nations Population Fund, decided to lend its financial and technical support to scaling up the project in the country's rural districts.
"Gender-based violence is not a family, private matter, but a violation of human rights."

--Assistant Commissioner Vib-Sanzire
"We wanted to build on an existing institution. It's efficient, and more and more clients are coming out," said Makane Kane, UNFPA Representative in Ghana. "Why should we reinvent the wheel when we have an established system that already functions?"
DOVVSU has 63 sites around the country but Assistant Police Commissioner Vib-Sanzire would like to see a centre in each of Ghana's 138 districts. As of last year, all police recruits were trained in basic counselling skills and the proper handling of victims of violence, including on how to collect data about the crime.
In Ho, the capital of Ghana's rural Volta Region, construction began on a shelter to house a medical and counselling centre, but work stopped, because the money dried up. For now, counselling is conducted at the police station but "every time the phone is ringing or someone is knocking at the door, so it is not very conducive," Assistant Police Commissioner Vib-Sanzire says.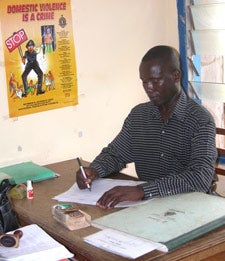 Volta Region is tackling a variety of different types of violence, from child abuse to trafficking to domestic violence, using radio programmes produced in local languages. One harmful tradition practiced in the region involves brothers being forced to have sex with their sisters before the girls are married to their future husbands.
"Victims report to our unit as a last resort. They first try to handle it at home. When they can not, they come to us," the assistant police commissioner says. "Most report to us psychologically devastated and demoralized."
Taking a multi-faceted approach
The police station in Ho is festooned with posters decrying violence against women and children: "Female genital mutilation is dangerous and punishable," says one. "Say no to child prostitution – It's illegal," says another. And then the more tongue-in-cheek: "You may not like your wife … But you have no right to beat her up."
A total of 35 police officers have been trained regionally on GBV, gender issues, legal and rights frameworks and basic counselling. UNFPA has donated computers, printers and other office equipment to assist the regional police in their monitoring and documentation of GBV cases.
Last year, a two-day sensitization campaign was conducted and attended by more than 900 participants, including traditional and civil society leaders. Churches, schools and markets in the region serve as venues for officers to preach their anti-violence message.
Police Corporal Augustus Amott, who has worked with the GBV programme since its inception in Ho, believes extreme poverty is the root cause of domestic violence.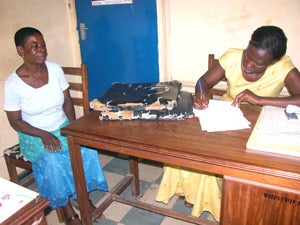 "It happens due to no money at home," he says. "In case the woman asks her husband for money, then it will turn to violence."
Ending impunity
With the advent of the advocacy campaign, more and more women are reporting domestic violence cases and seeking counselling from the police. However, with no shelter available, they often go back to their husbands." Talking to the husbands can help, says Police Corporal Amott. "I advise if he beats her again, we will send him to court."
"People need to know if they don't follow the rules, they will be in trouble," agrees Mr. Kane. "We also want to empower the victims so they can speak up and know their rights."
Georgina Fiaveh came to the centre to seek help for her son, Laurence. She works as a cleaner and only earns a small amount each month, not enough to pay for her son's school fees. She wants assistance from her estranged husband, but he refuses to help. "He will listen to the police," she says.
Community pressure is a highly effective means of changing behavior. Often the intervention of police counselling is sufficient to stop the violence.
"People hate to be ostracized. Being ostracized (by the community) is worse than being put in jail," Mr. Kane says. "You fear to be abandoned by your social group. This is something very positive that can be built upon to bring about social change." 
— Angela Walker