MYITKYINA, Myanmar - When Ja Htoi Lu was pregnant with her second child, she felt fine, and didn't see much point in taking time from her chores to go for antenatal visits.
It was late 2018. Seven years before, Ja Htoi had fled her home when armed conflict in Myanmar's Kachin State reached her village. After escaping the terror of war, and the hardship of living for such a long time in a displacement camp, a pregnancy did not seem like much to worry about for Ja Htoi.
What she did not know was that her pregnancy was high-risk.
In Myanmar, only 59 per cent of pregnant women complete the four antenatal visits recommended by the World Health Organization. In rural areas, one in six women receive no antenatal care at all. This is partly due to lack of access to health services, but also because many expectant mothers do not realize the importance of antenatal visits to their health. As a consequence, complications are often not identified until it is too late.
Over 2,800 women die each year from preventable pregnancy-related causes in Myanmar, according to the 2014 census. The country's maternal mortality rate of 282 per 100,000 live births is the second highest in Southeast Asia.
Integrating care and outreach
Ja Htoi, 26, is one of nearly a quarter million people displaced by one of several different conflicts in Myanmar.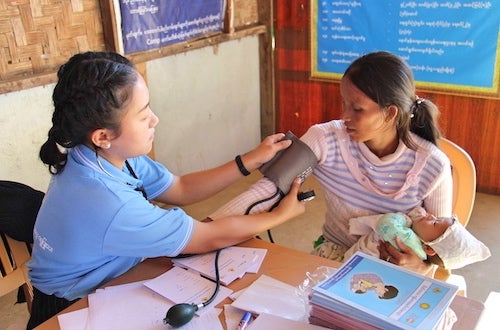 She lives in the Pa La Na camp on the outskirts of Kachin's capital Myitkyina, where she shares a single room with 10 relatives. They have no running water, and the toilets and washing facilities are all a considerable distance away.
But there was at least one way Ja Htoi was fortunate: An outreach promotion was underway during her pregnancy. Expectant mothers could receive 10 baby blankets for receiving antenatal care at the mobile clinic that routinely visited the camp. It was definitely worth a visit, she thought.
The next time the mobile clinic arrived, Ja Htoi showed up.
The doctor immediately diagnosed her with high blood pressure. Although hypertension in pregnancy has few obvious symptoms, it can lead to a dangerous condition called pre-eclampsia. Pre-eclampsia carries a risk of serious complications, including permanent disability or death for both mother and baby.
'The doctor treated me with respect'
The timely diagnosis may have saved Ja Htoi and her pregnancy. The doctor gave her blood pressure medication and explained the importance of monitoring the condition closely.
From then on, Ja Htoi didn't miss a single antenatal visit when the mobile clinic came to the camp.
Thanks to the information she received, Ja Htoi also decided to give birth in a hospital, under the care of health professionals.
"I gave birth to my first baby in the camp, and I had planned to do the same with my second," said Ja Htoi. "But the doctor advised me that it would be much safer for me to deliver in the hospital this time."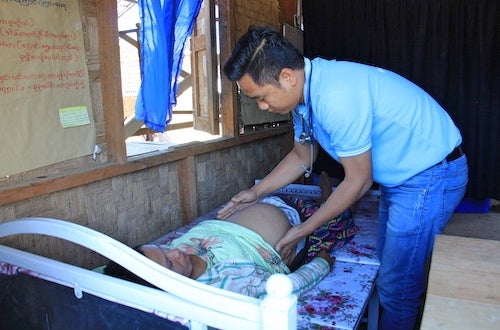 The doctor didn't have to do much convincing, she explained, because Ja Htoi trusted him and the nurse.
"They treated me with respect, and they listened to me. Being a displaced person, I hadn't expected that," she said.
Reaching women deep into the camps
Two mobile clinic teams – operated by the Myanmar Medical Association and funded by UNFPA – regularly visit 50 camps and 17 villages in Kachin, providing access to sexual and reproductive health services, including antenatal and post-natal care, to over 50,000 people.
The blanket promotion has also been a success. For families with so little, the blankets are precious commodities. Additionally, their white colour helps clinic staff identify jaundice in newborns. Jaundice can be difficult to spot when a baby is wrapped in a worn-out longyi – the traditional skirt worn by both men and women – and rooms are poorly lit.
As for Ja Htoi, her planned hospital delivery was without complications. She has since been receiving regular post-natal check-ups at the mobile clinic, and she is now healthy again.
So is her child.
"Imagine that it was the gift of baby blankets that kept us both healthy. Without that incentive, I would not have gone to the clinic in the first place," Ja Htoi said, sitting on the doorstep to her shelter. "But once I saw the doctor and the nurses, I realized that they were there to make sure I stay healthy, and to help me plan for a safe birth."