KIBUYE, Rwanda — The network of Rwandan parliamentarians this week outlined a bold four-point advocacy programme to reduce maternal deaths by 40 per cent by increasing the nation's low contraceptive prevalence rate of 4 per cent. The parliamentarians feel that they can now advocate better child spacing to help reduce the 1,071 per 100,000 women who die annually of childbirth-related complications. The rate, based on a year 2000 demographic health survey, translates into the death of some 3,200 Rwandan women each year which can be cut almost in half through child spacing alone. The lifetime risk of maternal death in Rwanda is 1 in 10 and the total fertility rate is 5.8 children per woman.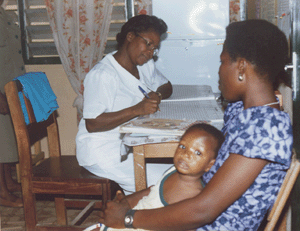 The parliamentarians' campaign includes renewed efforts to secure assisted delivery by providing health centres with supplies and trained workers; to advocate for adolescent reproductive health services; and to promote the implementation of the national population policy.
"We need to encourage universal education, improve the status of women and reduce maternal and infant mortality as well as address other population issues," said the Speaker of Parliament, Alfred Mukezamfura, in his opening speech. Dr. Alphonse Munyakazi of UNFPA, the United Nations Population Fund, added: "the tasks set by countries at the International Conference on Population and Development in 1994 to improve the quality of life of women and families need the ongoing support of groups, such as the network of parliamentarians, if the goals are to be reached by 2006."
The parliamentarians' network established a year ago now has 87 members from the House of Representatives and the newly established 20-member Senate. The Vice President of the Senate, Prosper Higiro, currently heads the network, which comprises four working commissions. As a trained economist, he affirms the economic advantages of family planning as a poverty reduction strategy. Fifty parliamentarians and senators attended the three-day advocacy training that was funded by UNFPA and the European Union. – Dr. Alphonse Munyakazi, UNFPA Assistant Representative, Rwanda, and Camilla Chausse, UNFPA New York.