OSUN STATE, Nigeria —Abiodun Titi, several months pregnant, flashes her best stage smile as she explains how to use a female condom here in the headquarters of Living Hope Care, a non-governmental organization that works with HIV-positive people in southern Nigeria. Abiodun is HIV-positive but her husband is HIV-negative. The child they are having together—their second—was made possible without exposing her husband to infection. How? It is thanks to the female condoms she received here and whose use she is now demonstrating.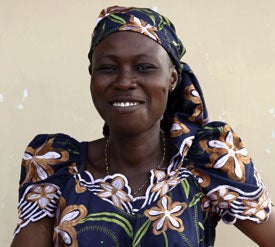 It just seems possible that her smile might not be a staged one after all. Because of the female condom, 'discordant' couples such as Abiodun and her husband can still conceive and practice safe sex—an important benefit in a region where fertility is so highly prized. After Abiodun and her husband had intercourse, then harvested his semen from the female condom and injected it back into her body with the aid of plastic syringe.
Living with hope: doing so with care 
Approximately 2.9 million Nigerians are living with HIV. Nearly 4 per cent of the country's population aged 15 to 49 is infected with the virus. Living Hope Care is one of the many NGOs working to fight the epidemic. A remarkable Nigerian by the name of Fakande Ibiyemi founded the organization in 1994. A former nurse, she started the organization after a man was brought into her hospital who had tried to hang himself after learning he had contracted HIV. Today, Ms. Ibiyemi's organization offers support, job training, free meals, micro-credit, and treatment for more than 2,000 people living with HIV.
"If the price of the female condom comes down, it will become as popular as the male condom."

--Mary Babalola
Living Hope Care is one of the many NGOs working with UNFPA, the United Nations Population Fund, to halt the spread of HIV by delivering condoms to groups who need them most. In Nigeria, NGOs such as Ms. Ibiyemi's are often better equipped to work with at-risk groups such as sex workers, youth and migrants than government institutions or hospitals. In fact, these organizations are responsible for distributing some 70 per cent of all the male condoms countrywide. They are also, naturally, the key to UNFPA's efforts to ensure that the female condom becomes available here as well.
Unlike the male condom, the female version is inserted into the vagina rather than over the penis. The principle is basically the same as the male version: it provides a barrier to the exchange of bodily fluids that can lead to HIV transmission.
Female-initiated method
Today, there are two types of female condoms available in Nigeria. The FC1 is made with polyurethane plastic and a newer one (FC2) made of synthetic latex. Both are thin, soft, odourless and strong, explains Stella Akinso, UNFPA Adviser in Osun State, Nigeria. "In terms of safety, they are more durable—less likely to burst or to break, and can be lubricated with water-or oil based lubricants."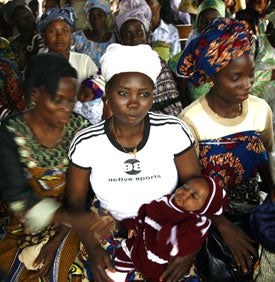 Its other great advantage is that it allows women to take more control over their own sexual health. The female condom can be inserted up to eight hours before intercourse. The fact that the woman wears the condom helps counter the common and serious problem of men who refuse to wear condoms themselves.
Nevertheless, the female condom cannot be applied secretly; it requires a degree of male support. A male partner will be aware of its presence, and could still insist upon its removal. The fact that it is the woman who puts it on however, represents a serious advantage. Previously, women were entirely reliant on the willingness of men to wear condoms and thus protect both partners from HIV.
Andrew Ezekiel, a support group coordinator at Living Health Care, is at least one man who finds it unlikely that his brethren would go so far as to sabotage the usefulness of a female condom by insisting a woman remove it before they can have sex. "Because they are already ready," he laughs, "they will submit. They will not say no."
Low awareness, high potential 
In spite of these advantages, a 2005 UNFPA survey revealed that female condom awareness and the understanding of its proper use are still very low. NGOs, who had successfully marketed the male condom, were hesitant to include the female version in their prevention arsenal, citing higher costs and the fact that they lacked the ability to explain to their clients how to use it. UNFPA responded with a widespread advocacy push, presenting the advantages of female condoms in seminars, community outreach programmes, and advertising 'jingles' on the radio.
The Fund also sponsored the training of 80 'master trainers', individuals trained to educate and counsel on use of the female condom, and provided 200 community-based distributors, 50 male motivators and 700 other health care and service providers with training on how to effectively use the device.
The campaign appears to have been a success. Only 25,000 female condoms had been distributed in the entire country in 2003, mainly through limited trials by some NGOs. By the end of 2006, the total had climbed to 375,000—fifteen times that amount. Eighty per cent of these were distributed by NGOs.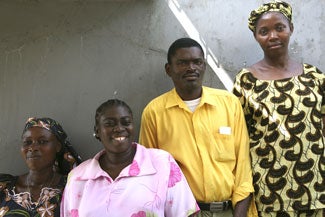 The government, UNFPA and other donor agencies are making female condoms available to the Nigerian public through a variety of means, but the most intriguing is the scheme developed for distribution through NGOs. UNFPA provides NGOs with an initial quantity of female condoms for free. The NGOs then distribute the condoms to their clients by selling them at a low price. Because the NGOs received the initial stock for free, however, they make a small profit. The proceeds are then used to buy more condoms from government stocks. This system helps to ensure an efficient distribution of female condoms, making them available where demand is greatest.
Cost factors
Unfortunately, that demand is constrained by cost. A female condom usually sells here for 20 naira—the equivalent of $0.15. UNFPA and the Nigerian government subsidize the female condom—placing it well below the actual manufacturing cost of $0.85 of FC1 and $0.60 for FC2. For the average Nigerian, however, it is still a significant amount of money. A male condom, in comparison, costs just 1 naira. In a country where the average annual income is only $900, the difference can be prohibitive.
"If the [price of] the female condom comes down," says Mary Babalola, another Living Hope Care support group coordinator, "it will become as popular as the male condom."
She has good reason to say so. The male condom, in absolute terms, remains more popular at Living Hope Care than its more expensive cousin. Since the organization started selling the female condom, however, a new trend has become evident. Living Hope Care's clients, many of them destitute, have spent more than twice as much buying female condoms as they have on male ones.
Clearly, there is demand for the female condom in Nigeria. As its cost declines, that the desire for the device can only be expected to rise—along with the independence of Nigeria's women.
— Arthur Plews