United Nations — In a visit to the Gaza Strip today, U.N. Secretary-General Ban Ki-moon voiced shock and anger at the 'heartbreaking' devastation, according to Reuters. Israeli attacks reportedly killed 1,300 and made thousands homeless before the ceasefire took affect on 18 January.
As UNFPA Executive Director Thoraya A. Obaid told her Executive Board today these reports do not include deaths and delivery-related injuries of pregnant women who had no services to fully support them during the conflict. "These are silent deaths and injuries that are forgotten because they are invisible to our eyes," she told the board. Some 3,700 women went into labour during the 22 days of conflict, she said.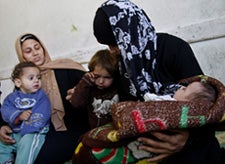 In this early recovery phase, UNFPA, as part of a coordinated interagency effort, will be working on two main fronts: restoring reproductive health care, including maternal and neonatal services, and providing psychosocial support to traumatized survivors. UNFPA plans are contingent on being able to move humanitarian supplies and building materials as well as technical experts into Gaza. For the time being, the movement of people and goods, is severely restricted.
Restoring reproductive health services
In the early recovery phase, UNFPA will focus on rehabilitating and restoring reproductive health infrastructure and services, including emergency obstetric and newborn care units. This includes reconstructing and refurbishing key primary care clinics and five hospitals that were damaged in the incursion. The Fund's assistance will be tailored to needs identified in a broad-based assessment carried out by the UN early recovery cluster.
UNFPA support will be provided for infrastructure repair, medical equipment and reproductive health supplies to maternity units. Reproductive health care will be linked to psychosocial support and care for dealing with post-traumatic stress.
Providing psychosocial support
The entire population of Gaza, including health professionals, is at risk of post-traumatic stress in varying degrees, according to UNFPA reports from the field. Since the ceasefire, the scale of the devastation and the need for humanitarian aid have become ever more apparent, according to the International Committee of the Red Cross. Entire families have lost everything and feel as if they are "waking up from a nightmare," according to the ICRC.
UNFPA's partners already have teams of trained professionals in psychosocial counselling, outreach and referral in Jabalia, Beit Lahia, Bureij, Khan Younis and Rafah. Additionally, UNFPA will deploy social workers to work with affected families with special focus on women and young people. An already- existing network of 60 volunteer peer educators will provide community-based support in the five locations. An assessment outlining the types of stress facing different sectors of the population and mapping out existing coping mechanisms has been initiated by a UN interagency team.
Hygiene kits (a package of basic hygiene and household materials such as blankets, soap and towels) will be distributed to displaced families to support their well-being and preserve their dignity. Target beneficiaries also include households headed by women and those that are sheltering extended family and friends but without additional resources to cope.
Many health professionals also will require help to overcome their own trauma and to recognize post-traumatic stress syndrome in women. UNFPA, in partnership with an international NGO, will organize debriefing sessions with counsellors and social workers, as well as with health professionals who served in hospitals and other facilities during the incursion.