UNITED NATIONS, New York – Today marks the one-year anniversary of the horrific kidnapping of 276 schoolgirls from the north-eastern Nigerian town of Chibok by Boko Haram insurgents.
This was not a one-time tragedy. Boko Haram's brutality has been relentless, forcing over a million people to flee their homes. Countless more have been kidnapped and subjected to sexual violence or forced to serve as combatants.
Although Boko Haram's campaign of violence began in Nigeria, their assaults know no borders: Communities in neighbouring Cameroon, Chad and Niger have also seen violence and mass displacement.
Working with partners in the region, UNFPA is providing support to those affected, including survivors of abduction and their families.
Health workers discuss the provision of psychosocial support in north-eastern Nigeria. © UNFPA Nigeria
Assisting Chibok survivors
Of the 276 schoolgirls kidnapped from Chibok, 57 have escaped. UNFPA has mobilized the provision of one-on-one and group counselling for the survivors and their families.
Some 60 health workers were trained to provide psychosocial support and resilience-building activities, not only for the girls but also for the broader community, which remains stricken and outraged over the attacks.
UNFPA has also prepared assistance – including psychosocial care and medical assistance – for the 219 girls who remain missing, so an immediate response will be available if and when the girls are released.
Reproductive health supplies and care have also been provided in communities throughout Borno State, which includes Chibok, and five other nearby states: Adamawa, Benue, Kaduna, Gombe and Yobe. UNFPA-supported facilities in these six states have helped more than 16,000 women deliver babies.
Additionally, UNFPA has delivered some 21,800 clean delivery kits and over 17,000 dignity kits, which contain essential hygiene supplies for women and girls, to health facilities in the region.
Response in Niger
Boko Haram attacks in the Diffa region of Niger have also caused major disruptions. With its partner, Red Cross Diffa, UNFPA is providing reproductive health care, including family planning and health care, as well as medical and psychosocial services for survivors of gender-based violence.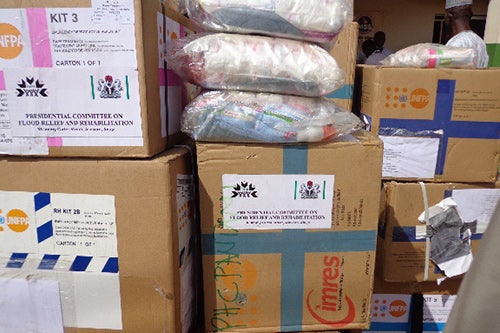 A delivery of medical supplies for health facilities in north-eastern Nigeria. © UNFPA Nigeria
UNFPA and Red Cross Diffa are also working to acquire motor boats to serve as reproductive health clinics for remote island populations with limited access to health care.
Calling for a safe return
Still, the provision life-saving reproductive health care continues to be undermined by the ongoing insecurity.
Uneven distribution of health workers remains one of the greatest challenges in the affected areas, leaving many women without access to sexual and reproductive health care or emergency obstetric care.
Today, UNFPA's Executive Director Dr. Babatunde Osotimehin called for an immediate release of all abductees.
"It is time for the girls and all other abductees to resume their lives in peace. It is time for this nightmare to come to an end," said Dr. Osotimehin.