UNITED NATIONS, New York – Key governors committed to take action to reduce Kenya's high maternal death rate at a UNFPA-organized meeting held this week in Nairobi.
The event brought together over 200 officials to address Kenya's persistently high rate of maternal mortality, which is among the highest in the world.
Estimates range from 360 deaths per 100,000 births, according to the 2013 State of the World Population report, to 488 deaths, according the 2008-2009 Kenya Demographic and Health Survey.
A recent analysis by the University of Nairobi showed that 98 per cent of these deaths are concentrated in just 15 of the country's 47 counties.
The meeting, held from 27 to 28 August, focused on reducing maternal deaths in these 15 counties – Garissa, Homa Bay, Isiolo, Kakamega, Kisumu, Lamu, Mandera, Marsabit, Migori, Nairobi, Nakuru, Siaya, Taita-Tavet, Turkana and Wajir – to ensure changes take place where they are needed most.
A music video shown at the consultative meeting served as a call to action.
Needless tragedies
The causes of maternal death are well known, and they are preventable.
In Kenya, hypertension and haemorrhage are common direct causes of death among pregnant women, and HIV and complications of unsafe abortion are common indirect causes of death. These problems are exacerbated by poor health infrastructure, low rates of skilled birth attendance, low access to family planning services and high rates of adolescent pregnancy.
Only 44 per cent of Kenyan women give birth in the presence of skilled health personnel, who are able to address complications. Only 39 per cent of women use modern methods of birth control, which, by allowing women to space and plan their pregnancies, reduces the risk of maternal death. And 106 girls give birth out of every 1,000 girls aged 15 to 19.
At the heart of this issue is an imperative to protect the rights of adolescent girls.
"Adolescent girls are particularly at risk of dying in pregnancy and childbirth, yet too often they face barriers to life-saving information and services," said UNFPA's Executive Director Dr. Osotimehin, in a video statement at the event.
Child marriage and female genital mutilation also increase girls' risk of maternal death. "Worldwide, 70,000 teenage girls die in pregnancy or childbirth every year, making maternal death the most common cause of death in girls between 15 and 19 years of age," Dr. Osotimehin added.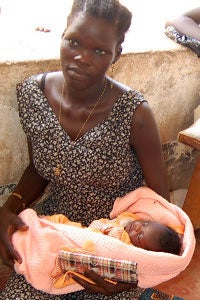 Yet the solutions are well known.
"We know what to do," he continued. "We know how to do it. We know where to do it. And we know how much it will cost to prevent these needless tragedies."
Outpouring of support
There has been an outpouring of support at all levels. The First Lady of Kenyan is spearheading the 'Beyond Zero' campaign, which has drawn national attention and resources to the cause of preventing maternal mortality.
And with just 500 days left to achieve Millennium Development Goal 5 (MDG 5) – the global goal of reducing maternal deaths by three-quarters and providing universal access to reproductive health – organizations are stepping up efforts to address the health needs of women and girls.
UNFPA's meeting this week sought to bring these efforts to the 15 counties with the highest maternal death burdens.
"The governors need to be at the vanguard of this. They can change this," said Siddharth Chatterjee, UNFPA's Representative in Kenya, in a nationally televised interview ahead of the conference. "Kenya is in a position to be able to change those statistics. And if Kenya can, the rest of sub-Saharan Africa can. Kenya, we see, can be a role model and a leader in MDG 5."
Committing to change
All of the 15 counties were represented at the meeting by their county health executives.
And, crucially, 10 of the 15 governors also attended and signed a communique that will form the basis of their efforts to address maternal health. The remaining five governors have signalled their intention to sign the communique.
By doing so, they have committed to increase investment in health care, improve infrastructure for emergency obstetric and newborn care, increase investment in the rights and education of adolescent girls, and support family planning services, among other core actions.
The meeting also saw overwhelming participation by government officials and civil society partners, including Kenya's Ministry of Health, the Council of Governors and the First Lady. The Kenya Red Cross, the UN Children's Fund, the World Health Organization, the World Bank, the United Kingdom's Department for International Development, the United States Agency for International Development, and other partners also rallied together in preparation for the event; they will be essential in ensuring that the counties' work is well supported.
"As a physician and a former Minister of Health, I know that only a broad-based effort mobilizing a wide range of partners across sectors and national, county and local levels can tackle the scale and burden of maternal and child deaths in Kenya," said Dr. Osotimehin.