UNFPA recently expanded its potential to deliver urgent and effective health care to women and families in the far-flung Pacific Islands. In collaboration with UNDP and UNICEF, the Fund has established the Joint Country Presence initiative to boost responsiveness through partnership. This comes as the Fund is also strengthening its field presence around the world to enhance service delivery and collaboration.
SASAMUGA, Solomon Islands — Judith was in the first stages of labour when she arrived at the local hospital just a few days after the April 2007 tsunami had struck her island. But the building had been flooded, the water pipes ripped in half, the delivery room contaminated with sand and debris, and most medical supplies and equipment had been destroyed or swept into the Pacific.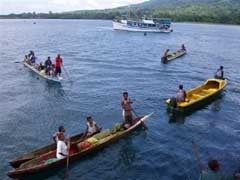 The two nurses remaining – most had fled in the wake of the crisis – wanted to send Judith to a hospital in a nearby island, but a two-and-a-half hour canoe ride seemed too risky under the circumstances, and no other transport was available. So the nurses did the best they could, and delivered a healthy baby girl.
But four days later, Judith (not her real name) was back, feverish and overcome with sharp pains in her abdomen. She was having trouble nursing, and her baby was weak and dehydrated. The nurse diagnosed sepsis, a genital tract infection that is a major contributor to maternal death in the developing world. Fortunately, antibiotics were available, and Judith and her baby recovered.
Vulnerable to disaster
Mention of the Pacific Island Countries conjures up images of stunning blue seas, florescent pink hibiscus and swaying palms. However, life in a 'tropical paradise' often comes at a price.
"The Pacific Island Countries are extremely vulnerable as many are atolls, which are basically annular coral reefs that are very small and rise only one meter above sea level," explained Najib Assifi, the UNFPA Director and Representative for the Pacific Sub-Regional Office. "People live on these tiny atolls and are subject to simple tidal waves which are enough to wipe out their houses and communities."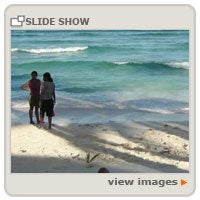 Typhoons, earthquakes and volcanoes are also common hazards which threaten the thousands of mainly small coral and volcanic islands throughout the year. When a crisis strikes the Pacific limited access to health facilities can be a major cause of maternal death. Rising sea levels associated with climate change are exacerbating the situation.
"In the Pacific our focus is on ensuring women have access to emergency obstetric care. The reason for this is that populations are scattered across a very big area of the ocean with great distances between countries and islands within countries. It takes a long time to travel by boat, and there are few air link services so access to health facilities is limited," said Mr. Asssifi.
Conflict among the Pacific islanders poses another challenge. In 2006, Fiji Islanders experienced their fourth coup in twenty years, and Papua New Guinea currently simmers in ongoing tribal tensions. In 2003, a peacekeeping force was deployed to restore security in the Solomon Islands. In all these islands, addressing sexual and domestic violence, teen pregnancy and rape, is part of protecting reproductive health.
The need for a coordinated response
With the threat of both natural disaster and conflict looming over the Pacific on an ongoing basis, UN agencies, NGOs and others are working hard to ensure that women have access to life-saving sexual and reproductive health services, including medical treatment for sexual violence, in crisis and post-crisis settings. Yet, shipping medical equipment and supplies has been challenging due to transportation restrictions, and coordination has been problematic.
"The recent tsunami crisis in the Solomon Islands was a wake-up call for everyone," said Mr. Assifi. "The tsunami hit the area very hard and schools and houses were destroyed, and there was a substantial loss of life. We tried to respond as quickly as we could and sent emergency reproductive health kits from UNFPA's regional warehouse in Suva. The kits reached the Solomon Islands within the first week of the disaster, but response mechanisms were disorganized, and so there was a slight delay in getting the supplies to the affected populations."
"The tsunami really caught us unprepared. Previously, we had never addressed or even considered sexual and reproductive health as part of our emergency response."
--—Veldah Rosie Ane Hiru
Following a request by five countries in the Northern Pacific to establish a UN presence in their countries, a new initiative, the Joint Country Presence was established. The Joint Presence will allow for UNFPA, UNDP or UNICEF to act on behalf of all three agencies within a given Pacificcountry. Prior to this, UNFPA's sub-regional office for the Pacific operated out of Fiji and supported programmes in 14 Pacific countries. The initiative will allow the Fund to maintain a presence in nine additional countries, either with its own staff members or through UNDP or UNICEF.
"We have fully harmonized our programmes with UNDP and UNICEF in order to avoid duplication in response. We are also bringing in key stakeholders from around the region to create a stronger knowledge and understanding of what it takes to be prepared for emergencies. But these are stepping stones and there is still a lot of work ahead of us," said Mr. Assifi.
Building local networks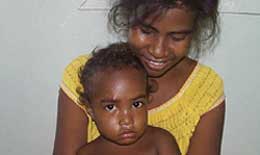 At the end of the day, disaster preparedness and strengthened reproductive health requires stronger local organizations and networks. An example is a reproductive health care training course being offered by the Fiji School of Medicine, and largely funded by UNFPA, to 20 medical practitioners from ten different Pacific Island countries each year. Most of the course participants are experienced health workers, but the training will help them better manage reproductive health issues, including childbirth.
"In the rural areas of the Pacific there are mainly nursing stations set up to deal with reproductive health issues. so most of the participants are registered nurses or nurse practitioners. These nurses are required to be the jack-of-all trades and know everything from basic operations to giving medicine," said Julian Sing, Manager of Corporate Planning for the Fiji School of Medicine.
The school is working on ways to keep the participants in touch how after the course has ended, but it's not easy.
"About 40 per cent of our participants come from villages that don't have access to the Internet and have never even sent an email before they attended this course," said Mr. Sing. "So, we have to send the newsletter by post and honestly I'm not sure if they ever even receive it. But we want to continue to try and set up networks so that eventually the Pacific is prepared to adequately attend to the reproductive health needs of its people."
SPRINT: Addressing the gaps
"The tsunami really caught us unprepared," said Veldah Rosie Ane Hiru, of the Solomon Island Planned Parenthood Association. "Previously, we had never addressed or even considered sexual and reproductive health as part of our emergency response. Our focus, like most the other Pacific Island countries, was on addressing the needs of shelter, clothes and food."
In order to address this gap, UNFPA, the International Planned Parenthood Federation and other partners developed the Sexual and Reproductive Health Programme in Crisis and Post-Crisis Situations in the East, Southeast Asia, and the Pacific (SPRINT). As part of this initiative, 27 participants from 10 countries in the Pacific were recently trained in Suva, Fiji on how to appropriately care for, and to train others on, the many sexual and reproductive health issues that can occur in an emergency, such as how to guarantee that universal safety precautions are in order, and that services are kept confidential, especially for rape victims.
"The Pacific has been a region long neglected when it comes to humanitarian emergencies because most of the focus is on the big emergencies which occur in Africa or Asia," said Dr. Wilma Doedens, UNFPA's humanitarian response technical advisor for sexual and reproductive health and SPRINT trainer. "So it was important to come to this area and ensure that the life-saving elements of reproductive health, such as HIV prevention [and management of sexual violence, and prevention of excess maternal morbidity and antenatal morbidity and mortality are integrated into overall emergency response."
— Reported from Fiji by Shannon Egan