NEW YORK – Some 250 million years ago, all of the earth's land mass formed one supercontinent, Pangea. On May 10, organizers of Pangea Day, aim to restore connections between far-flung places through the power of story telling, film, and new technologies--allowing individuals to see the world through the eyes of others.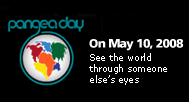 The approximately two dozen films being featured in Pangea Day's 18:00 GMT broadcast – on television, the internet, and mobile phones – will demonstrate the universality of the human experience.
Since nothing is more universal than motherhood, UNFPA is partnering with Pangea Day organizers to call attention to the women who nearly died in the process of trying to give life. They serve as reminders of the risks of childbearing for those without reproductive health care.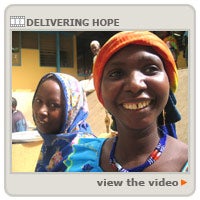 Obstetric fistula, a devastating childbirth injury that leaves women incontinent and, often, socially isolated, can be cured by a relatively simple surgical procedure.  Fistula has been largely eradicated in developed countries for over a century, thanks to the availability of obstetric care. But some two million women, mostly in Africa and South Asia, continue to suffer from this preventable and treatable condition.
In 2003, UNFPA spearheaded a global Campaign to End Fistula. The Campaign now supports activities to assist fistula survivors in over 40 countries, focusing on:  prevention, treatment, and support for women after surgery so that they can return to their communities.
UNFPA encourages you to align with the objective of Pangea Day to change the world for the better by making connections and raising awareness for causes that matter.
Here are some ways you can be part of this transformation: 
Lending your voice: Inform your elected officials about fistula and the importance of safe motherhood or write a 'Letter to the Editor' of your local newspaper about fistula
Dining out: Partner with a local restaurant to donate a portion of one night's profits to the Campaign
Cleaning your house: Hold a garage sale or auction off items on eBay, with proceeds directed to the Campaign
Talking to your boss: Encourage your company to support the Campaign
Campaigning on campus: Raise awareness of this issue on your university/college campus through film screenings or fundraising events
Giving up a gift: Ask friends and family to give to the Campaign in lieu of holiday or birthday gifts
Tying the knot: (U.S. residents only) Feature the Campaign on your wedding registry (contact Americans for UNFPA to arrange)
Donating to the Campaign: Click here to find out how to donate  
For more information on how to get involved, contact fistulacampaign@unfpa.org.