In recognition of monumental efforts and achievements, the United Nations today acknowledged Dr. Kwasi Odoi-Agyarko and EngenderHealth for their contributions to increasing the awareness of, and providing solutions to, the world's population problems.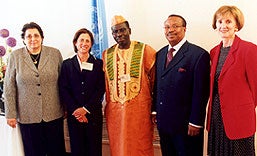 The winner of the individual category of the Population Award went to Ghanaian Kwasi Odoi-Agyarko, the Executive Director of Rural Help Integrated in Ghana, commended for his outstanding leadership and achievements in promoting community-based reproductive health services in his country. His organization is located in the Upper East Region, one of Ghana's poorest and least accessible areas and one that faces issues such as female circumcision.
In his acceptance speech, Dr. Odoi-Agyarko recounted a day when he and his team encountered a 14-year-old pregnant teenager while attending a ceremony at a nearby village. The girl had been in labor for two days and was unable to give birth because of a genital cutting wound that had healed with a tough fibrous scar tissue. Dr. Odoi-Agyarko and his team were able to perform an episotomy after which the girl safely delivered a healthy baby boy. The young mother and child are alive today because Dr. Odoi-Agyarko and his team happened to be there. "This is not an isolated case," he says "but portrays enormous reproductive health challenges faced by many communities in the part of the country I live and work in." His organization provides such culturally sensitive reproductive health care in a model project that has received international attention for its scope and quality.
Dr. Odoi-Agyarko has also integrated the Rural Help Integrated model into the School of Public Health at the University of Ghana. He has made substantial progress toward empowering women through the promotion of women to leadership positions.
Recounting a heart-rending tale of a pregnant woman bleeding to death due to lack of medical care in rural India, Amy Pollack accepted the award on behalf of EngenderHealth, the American winner in the Institutional category at the awards. EngenderHealth was recognized for its work around the world in safe and voluntary surgical contraception and family planning counseling programmes.
In her speech, Ms. Pollack cited four challenges that lie and must be overcome in the century ahead: the urgent need for family planning services, the AIDS epidemic, the lack of access to information and basic reproductive health services, and the need to recognize the understanding of reproductive health as an economic asset that contributes powerfully to national development. "Renewed financial, material, political and intellectual commitment to family planning will be necessary," she said, "if the needs of women and men are to be met. A failure of commitment at this crucial point will yield only tragedy - in lives lost, opportunities squandered, and rights denied."
Formerly known as AVSC International, EngenderHealth was established in 1943 and initially worked to ensure that American couples could choose surgical contraception and that these services were voluntary and safe. In 1973, the organization broadened its geographic scope to work in the developing world, where it has introduced and expanded access to safe and voluntary surgical contraceptive services in more than 90 countries.
Secretary-General Kofi Annan, in a message to the awards ceremony delivered on his behalf by Assistant Secretary-General for External Relations Gillan Sorensen, congratulated both winners for their "outstanding contributions to the betterment of our world." He also pledged that the UN would continue its efforts to address population issues as an integral part of its global work for social and economic development.